Welcome, princesses and ojou-sama~!
The Butler Cafe is a show and interactive experience, featuring a group of talented performers ready to make your hearts go doki-doki.
With a wide array of entertainment, including dances, musical performances and photo ops, the Butler Café is the perfect place to grab a snack and a drink with some friends, plus make some new ones! In addition, butlers will be available to chat with attendees and play games.
2018 AX Butler Cafe presented by Voltage, Inc!
W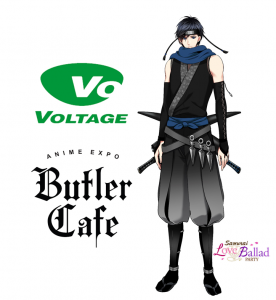 e are excited to collaborate with Voltage Inc. this year for the AX Butler Cafe! At the Anime Expo Butler Cafe, enjoy performances and play games with the gorgeous butlers there to wait on you. Share light refreshments with friends as you live out your otome romance fantasies with the much-talked-about "kabe-don" experience and Wedding VR. The popular character, Sakuya from Samurai Love Ballad: PARTY, will also be there for photos and offering guests the "kabe-don" experience.
Voltage Inc. will also be selling original merchandise made especially for Anime Expo inside the Butler Cafe itself. Items will include wall scrolls, key chains, and much more. Eight types of merchandise will be made available.