Located in Kentia Hall adjacent to Artist Alley, The Annex features cutting-edge fashion and art. The Annex is a place to discover something new, something edgy, something fun and exciting.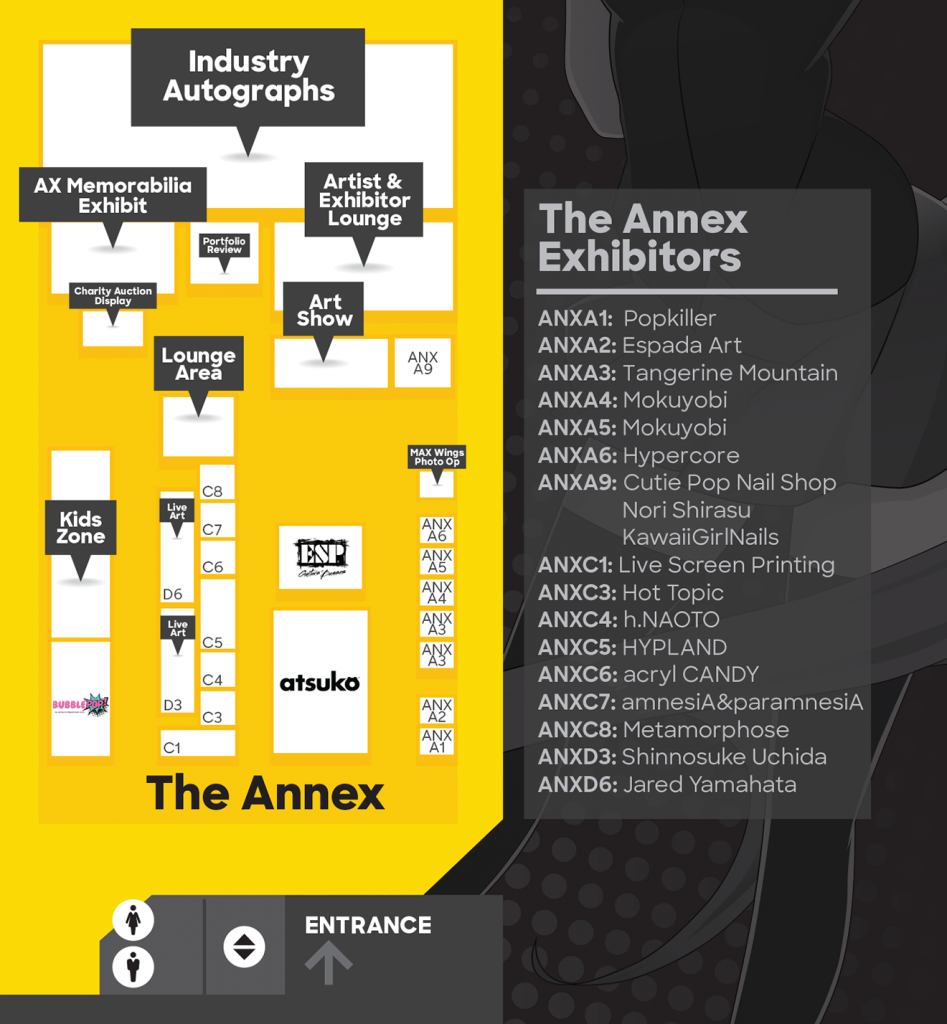 Kids Zone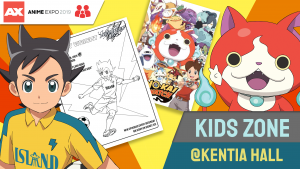 For parents of children ages 3 through 8, we invite you to stop by the Kids Zone! Our staff will have plenty of activities to entertain your child – from coloring pages, activity sheets provided by Level-5. YO-KAI WATCH posters will also be available to all who visit the Kids Zone, while supplies last.
In addition, we're partnering with BubblePOP to bring unique and memorable bubble-themed activities for both children and adults! BubblePOP injects imagination and science into something as classic as the bubble to create fun memories for kids and the young at heart!  We will have activities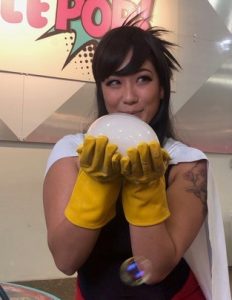 like phantom bubbles (where you can make and hold your own smoke filled bubble), bubble force (where you can make HUGE life size bubbles), rocket bubbles (where you can challenge yourself to the best bubble tricks), and even take a photo inside a HUGE bubble!
*Please note that parents cannot leave their children at the Kids Zone, as it is not a daycare service.
Featured Artists
Live Screen Printing Collaboration Shirts
This year, we're excited to showcase Tokyo-based Shinnosuke Uchida and Pasadena-based Jared Yamahata. They will both be working on large-scale art pieces, so be sure to stop by The Annex to see their artwork evolve over the course of Anime Expo. Plus, visit the Charity Auction on Sunday for a chance to own one of their pieces!
They'll also be doing live screen printing right in The Annex! Stop by and pick your favorite t-shirt design and watch them bring it to life right before your eyes!
Portfolio Review
In the portfolio review session area, we're excited to have many industry professionals who will be providing anime artists with feedback and advice.
This year, we're pleased to welcome animation industry professionals Will Feng (producer), Ashley Armstrong (storyboard artist/animator), and Rachel Long (storyboard artist/animator), Fawn Lau,  Executive Editor for VIZ Originals, Ruwen Liu of Sizigi Studios (Artist Alley Table A47), and Patrick Crotty of Random House Graphic.
If you're interested in getting your work reviewed, be sure to check out the sign-up form!
Art Show
Come admire artwork created by your fellow attendees! The Art Show is a place to display a wide variety of mediums, ranging from original paintings and drawings to sculptures to photography! You'll even have the chance to make some art of your own at the art station within the exhibit!
Interested in displaying your art at AX 2019? Fill out the Art Show Drop-Off Form and drop it off with your art on July 3rd, 2019 from 10AM-4PM at the purple Autographs Ticketing booth in Gilbert Lindsay Plaza! For full details, guidelines, restrictions, and display option information, visit the Art Show page.
AX Memorabilia Exhibit & Charity Auction
Stop by the AX Memorabilia Exhibit, where you can see artifacts and mementos that span the history of Anime Expo. See how this event has evolved over the years and become the grand celebration that it is today!
Also, take a look at the Charity Auction display, you'll be able to see what our guests have graciously donated to benefit Terasaki Budokan in Little Tokyo. Anime Expo works with our special guests from the industry to provide one-of-a-kind items that go towards a charitable cause, including these very special, custom-made AX guitars from ESP Guitars!
Exclusive Photo Op
Snap a photo in front of our Annex-exclusive MAX wings photo op! Strike your best pose in front of the wings of MAX, our mechagirl mascot, and be sure to tag us when you post it on social media!
Exhibitors:
The Annex Hours of Operation:
Day 1 (July 4):

 10:00 AM – 6:00 PM

Day 2 (July 5):

 10:00 AM – 6:00 PM

Day 3 (July 6):

 10:00 AM – 6:00 PM

Day 4 (July 7):

 10:00 AM – 3:00 PM
---
Anime Expo 2019  will run from July 4 through July 7 at the Los Angeles Convention Center, with Pre-Show Night on July 3, 2019.
For more information about attending AX, check out our How to Attend guide.
Download our mobile app to stay up-to-date on announcements!