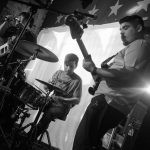 Here Between You Me is...
Terence Calacsan - Vocals/Keys/Nintendo Game Boy
Xavier Martinez - Vocals/Bass
Daryle Joseph - Drums
Southern California's Here Between You Me is the product of a quarter-life crisis, late nights alone, and a penchant for tear-inducing, ethereal 8-bit pop. Terence, Xavier, Daryle, and a modified Game Boy joined forces in 2012 to make electronic music that makes you realize teen angst sucks when you're an adult. With the help of frequent vocal collaborator, Jinian Austria, Here Between You Me aims to deliver the kind of energy and emotion only found in dreams. Care to join the dream?