It's the 15th birth year of P.A.WORKS! To share this joyous moment in time, P.A.WORKS is inviting everyone at Anime Expo 2016 for a special exhibit! Come over to the Entertainment Hall to see their 15th Anniversary Exhibit, with production artworks and items used in anime productions. The exhibit includes things from true tears, Angel Beats!, Hanasaku Iroha, The Eccentric Family, SHIROBAKO, Charlotte, and all the way to our newest title Kuromukuro! Let's share in this celebratory moment together!
Location: Entertainment Hall Booth #3600
Founder/CEO & producer of animation studio P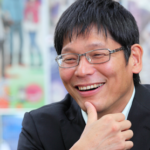 .A.WORKS. Produced shows such as HaruChika, Charlotte, SHIROBAKO, The Eccentric Family, Hanasaku Iroha, Another, Angel Beats!, and the newest project, Kuromukuro, soon to stream on Netflix.
For updates, follow PA Works on Facebook and Twitter: @PAWORKS_eng
Featured Anime Series:
Kuromukuro
HaruChika – Haruta & Chika
Charlotte
SHIROBAKO
Glasslip
NagiAsu –A Lull in the Sea
Koitabi ~Ture Tours Nanto~
The Eccentric Family
Red Data Girl
Tari Tari
Another
Hanasaku Iroha – Blossoms for Tomorrow
Hanasaku Iroha – Home Sweet Home
Mai, Magic and Family Day
Multi-Purpose Vegetable: Carrotman!
Angel Beats!
Professor Layton and the Eternal Diva
CANAAN
true tears