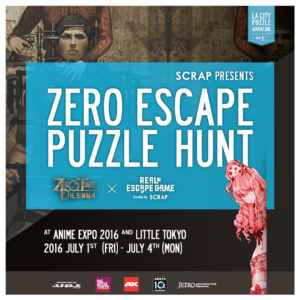 LA City Puzzle Adventure Vol. 1 – ZERO ESCAPE PUZZLE HUNT
In 2029, the human race is facing the risk of extinction.  And you – in 2016 – received a message from the future.  Solve all the mysteries hidden within Anime Expo 2016 and Little Tokyo and save the world!
LA City Puzzle Adventure "ZERO ESCAPE PUZZLE HUNT" is a free, live-experience puzzle game in collaboration with the third title in the popular series, "Zero Time Dilemma," in which players explore both Anime Expo 2016 and the Little Tokyo neighborhood in order to solve puzzles.  There is no 60-minute time limit, and you can start, stop, and resume the game any time between 12pm and 8pm during Anime Expo 2016.
About Zero Time Dilemma
Zero Time Dilemma, released on June 28, 2016, is the third title of Zero Escape video game series that cleverly combines the escape room and visual novel genres to create suspense-filled stories filled with twists that you would never expect.
For more information, please visit www.zerotimedilemma.com
How to Join the Game
 Receive a free game kit (one per player or group) at Anime Expo 2016 or in Little Tokyo
*Get a game kit at one of the following locations:
AT ANIME EXPO

SCRAP Booth (Entertainment Hall)
Aksys Games Booth #2805
Anime Jungle Booth #2614

AT LITTLE TOKYO

Real Escape Game LA (123 Astronaut E S Onizuka St. #200, Los Angeles, CA 90012)
Anime Jungle (319 E 2nd St. #103, Los Angeles CA 90012)
Little Tokyo Koban and Visitor's Center (307 E 1st St., Los Angeles CA 90189)
**You may still play the game without the entry to Anime Expo 2016 if you receive a game kit at Little Tokyo.
 Read the instructions on the game kit and play the game between the hours of 12pm and 8pm during Anime Expo 2016 (July 1st – 4th).
Get entered into a prize drawing after you solve all the puzzles.

* Raffle prizes include Zero Time Dilemma goods, Real Escape Game tickets, and more!
** Raffle location is in front of Japanese American National Museum (100 North Central Avenue, Los Angeles CA 90012).
Regardless of start time, you may play until the game ends at 8pm each day.
Tickets
FREE to play!!  No registration required.
Players
Event Duration
Open Dates
Friday, July 1, 12 PM – 8 PM
Saturday, July 2, 12 PM – 8 PM
Sunday, July 3, 12 PM – 8 PM
Monday, July 4, 12 PM – 8 PM
Locations
Anime Expo 2016 (LA Convention Center)
Little Tokyo, Los Angeles
Q&A
Is this an event or an escape room? How long will it be open?
This is a puzzle hunt event – it is NOT an escape game or escape room! The game takes place concurrently with Anime Expo 2016 and Little Tokyo of Los Angeles for 4 days only.
So what is this game exactly?
ZERO ESCAPE PUZZLE HUNT is just that: a puzzle hunt game in collaboration with Zero Time Dilemma in which you visit checkpoints at AX2016 and Little Tokyo and solve puzzles to save the future in 2029.
Do I need to go AX 2016? Or Little Tokyo?
If you do not have a pass to AX 2016, you still can play the game only within Little Tokyo. In order to complete the game, you need to visit the Little Tokyo neighborhood. Don't worry, good foods and drinks are available in many shops!
What happens when we reach the story's ending?
You can enter a drawing for prizes! Prizes include Zero Time Dilemma software, REG tickets, and more!
How long do we need to finish the game?
Depending on whether you take breaks or not, the game duration will vary. However, we expect the game to take at least two hours. You can stop and resume the game any time during the AX 2016 period but please play the game only between 12 PM and 8PM.
What happens if we run out of time?
If it is not the last day of AX2016, you can resume play on the other days.
Can I use the bathroom and eat during the game?
This game allows you to move at your own pace. You are welcome to take breaks, use bathrooms, and have meals in AX 2016 or Little Tokyo.
What should I wear?
Wear comfortable shoes, as you will need to walk around the event area during the game. A part of the game may also take place outside the buildings, so dress for the weather.
What is the parking situation like?
Public parking around AX 2016 and Little Tokyo is rather limited. We recommend taking public transit or using ride-sharing services. For moving between AX2016 and Little Tokyo, please use AX Shuttle Bus Route 2.