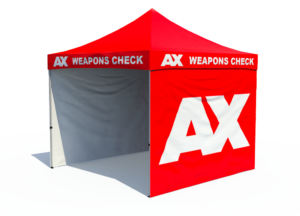 New for AX 2017, the Weapons Check booths will be located outside of the convention center. It is mandatory that all weapons be inspected in order to attend the event. If you have prop weapons of any kind, please be sure to first visit one of the Weapons Check booths (pictured right). We have increased the total number of locations to the following four:
South Lobby Exterior #1 (Located just outside the front doors to South Hall)
West Lobby Exterior #2 (Located just outside the front doors to West Hall)
South Hall #3 (Located on the street level on Pico Blvd, next to the Autograph Ticketing Booth.)
Concourse Plaza #4 (Located outside of the Main Events Hall, next to the Video 4 line.)

Please be sure to check the Weapons Policy for information about restrictions and requirements for prop weapons.
Weapons Check Hours:
Day -1 (June 29): 12 PM – 8 PM
Day 0 (June 30): 8 AM – 10 PM
Day 2 (July 1): 8 AM – 10 PM
Day 2 (July 2): 8 AM – 10 PM
Day 3 (July 3): 8 AM – 10 PM
Day 4 (July 4): 8 AM –   3 PM