It's that time of year again, GunPla enthusiasts. Get your nippers and airbrushes ready because the 2018 Gunpla Builders World Cup is upon us!
Anime Expo is hosting one of the North American qualifiers for the 2018 Gunpla Builders World Cup (GBWC)!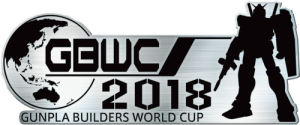 To determine the USA Representative to this world competition, a set of U.S. live regional competitions and one online competition open to the USA will be held in 2018. Each convention and the online competition hosted on the Bandai Hobby website will have its own set of Semi-Finalists. From this pool of semi-finalists, one will be chosen to be the USA Representative to take names and kick some butt against the world at the Bandai GunPla World Cup Finals later this year.
Anime Expo (July 5th to 7th): July 1 online deadline
AX Times: Drop off from Jul 5th to June 7th 11:30 am, Awards Ceremony July 7th at 1:30pm at the Gundam Booth in exhibitor's hall!
For rules, entry forms and other contest details, please click here.