Yoshihisa Hashimoto, CTO of Life is Tech!, will be joining Anime Expo 2019! He will be sharing about Life is Tech!'s latest project Technologia School of Magic, which is a role-playing game in which you can learn Text Coding. In this game, you act as the main character of the school of magic and explore the world to solve the mystery.
Visit Life is Tech! at booth 18A in the Entertainment Hall to learn more!
Event Details
Panel Name: *New Game Premiere* by Former-CTO of Square Enix
Date: Saturday, July 6
Time: 11:30 AM – 12:30 PM
Room: Live Programming 3 / 408AB
For information about lining up and room entry, please see the Program Room Policies
His appearance at Anime Expo 2019 is made possible by Life is Tech!
For press inquiries, please contact info@lifeistech-usa.com.
About Yoshihisa Hashimoto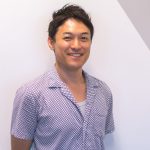 Yoshihisa Hashimoto, the CTO of Life is Tech, is a graduate of the Faculty of Engineering at Tokyo University. After developing video games at Sega for 12 years, he served as the CTO of Square Enix for 5 years. He joined LiT in December 2014. As overseer for products of high quality, he supervises the development of Technologia School of Magic and the MOZER system as well as the educational curriculum. Best-known works: Sonic Unleashed, Agni's Philosophy, and Final Fantasy XIV: A Realm Reborn.
---
Anime Expo 2019  will run from July 4 through July 7 at the Los Angeles Convention Center, with Pre-Show Night on July 3, 2019.
For more information about attending AX, check out our How to Attend guide.
Download our mobile app to stay up-to-date on announcements!