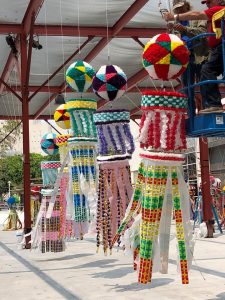 The Los Angeles Tanabata Festival is a community event that celebrates the Tanabata (Seventh Night of the Seventh Moon). It is a cultural event held to encourage fellowship and community spirit by organizing workshops in Kazari-making. The Festival features Japanese food, Japanese martial arts and performing arts to be introduced and presented to the public. It raises awareness to the public about the Japan summer season festivals and introduces young and old alike to the culture and beauty of Japan.
We will be giving away prizes for the cosplay contest at the 2019 Los Angeles Tanabata Festival in Little Tokyo, so come out and celebrate in your best cosplay!
To secure your spot ahead of time, please fill out the entry form at the end of this post. For more information about the Tanabata Festival, please visit their website.
Contest Details
When: Sunday, August 11, 2019 at 1:30 PM
Where: Japanese American National Museum, 100 N Central Ave, Los Angeles, CA 90012
Contest Structure
To confirm your participation, please check-in onsite
Sign-ups may also be accepted on the day of the contest at the Tanabata Festival Info Booth, subject to availability.
Each contestant will have approximately 1 1/2 minutes to walk on stage, present their cosplay, and walk off stage. You do not need to use all of your time but please try to make sure everyone gets a good look at you in your costume!
Guidelines
Both purchased and handmade costumes will be permitted. We want to see your love of the character and the spirit of cosplay!
Contestants will be judged on overall presentation only. This includes: Embodiment and personality of the character (ex: emulating the personality of the character), pose and walk on quality (ex: utilizing your time to pose well for the audience and judges), over all presentation of costume (ex: costume is ironed and looks well fitted to the participant) and as a bonus, wig or hair styling and make up.
Please refrain from doing anything that would be dangerous or impede the contestant after you from coming on stage. Please do not leave anything on the stage (costumes, confetti, etc).
Prizes:
1st Place: 4-Day badge to Anime Expo 2020 + Anime Expo Merchandise Prize Package
Honorable Mention: Anime Expo Merchandise Prize Package