Sunnier days and blooming flowers can only mean one thing: springtime has arrived! As the winter chill begins to melt away, we're celebrating the sunny weather with a cheerful new piece in our Artist Collaboration Project. Our Spring 2020 piece features artwork created by OneMegaWatt!
Spring in Los Angeles means the start of jacaranda season! Many neighborhoods and parks in L.A. are lined with beautiful jacaranda trees, which flourish with gorgeous purple blossoms and scatter petal trails when the weather is warm. It's the perfect time to enjoy outdoor activities with friends and family! In OneMegaWatt's piece our mascots Kisegi, MAX, and Mahoko are enjoying a lovely bicycle ride through the park together.
See the full piece below, and make sure to check it out on our Twitter, Facebook, and Instagram!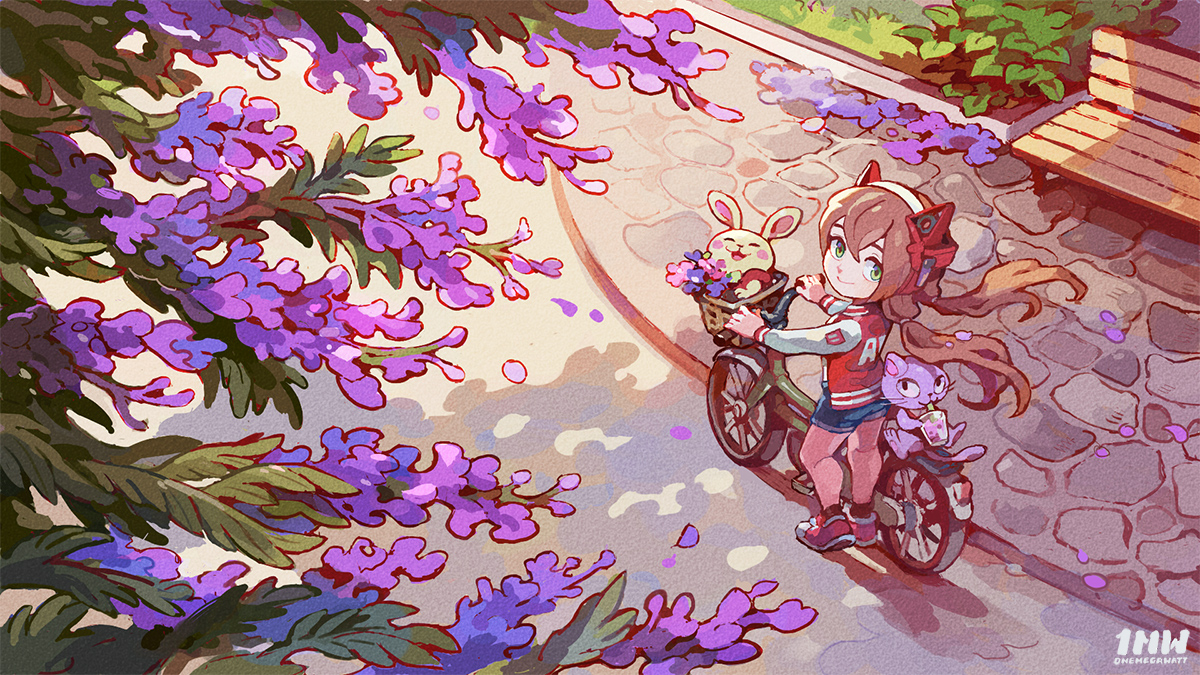 Interview with the Artist
How did you get into anime?
When I was in kindergarten, my parents got me VHS tapes of Vietnamese dubbed over Chinese dubbed Sailor Moon and I was never the same since.
When did you first attend Anime Expo?
My cousin took me to AX for the first time in 2011, a year after I moved here from Vietnam. It was an absolutely mind blowing experience because I never even heard of such an anime event of this scale being possible.
When did you first participate in Artist Alley at AX?
One thing that really left a big impression on me during my first AX was the Artist Alley. I remember this magical feeling walking through the hall looking at all the amazing artwork while thinking how much I wanted to participate. The following year I managed to sign up for a table and have been tabling at AX every year after.
What do you love about Anime Expo?
Anime conventions are always fun to attend and Anime Expo was my first, and the one I attend every year, so it always has a special place in my heart. Also everyone goes to AX so it's always a great chance to see friends that I don't get to see often.
About OneMegaWatt
OneMegaWatt is a freelance illustrator that has a passion for video games and character designs
Find OneMegaWatt in Artist Alley!
To learn more, visit https://twitter.com/onemegawatt
---
Anime Expo 2020 will run from July 2 through July 5 at the Los Angeles Convention Center.
For more information about attending AX, check out our How to Attend guide.