TRANSFER
Each badge must be assigned to a unique individual*! If someone else is the original buyer of the badge, they must first transfer the badge to you within ShowClix and second, you must then accept the transfer!
*IMPORTANT: Our Registration Policies only allow a single badge per day, per attendee. Any duplicates are subject to cancellation. Except for adult badges (4-Day, 1-Day) purchased for minors (ages 14-17), please email registration@anime-expo.org so our team can add a note to your order.
NOTE: Child Badges (ages 6-13) CANNOT be transferred due to our privacy policies and must stay assigned to the Buyer. If the child will be attending AX with a different adult, email registration@anime-expo.org to process this transfer request.
ACTIVATE BADGE
Each Badge MUST be activated to participate at Anime Expo 2023! Each person must activate their OWN badge*.
By activating, each designated attendee (badge holder) will also have access to special perks such as exhibitor contests, giveaways, and prizes!
You must have your physical badge to activate and will need the last eight characters (the activation code) located on the backside.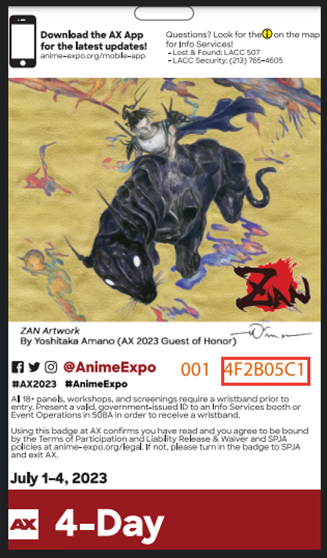 For step-by-step instructions check out our Activation Guide in our Anime Expo Help Center!
Are you a Professional badge holder (Exhibitor, Artist Alley, Press, Industry)? Professional badges follow a different process, CLICK HERE to see your specific activation instructions.
*Exception for Child Badges (6-13): For the safety of the child, ALL Child badges (ages 6-13) must be activated with the adult that will accompany them during the show.
During the activation process you will be prompted to add a Child to your own badge activation. Once you finish adding, select "No, Thanks. I'm done!". After completing the survey, you will be prompted to enter the activation code for each child added. Make sure you enter in the right activation code under the name of each Child.