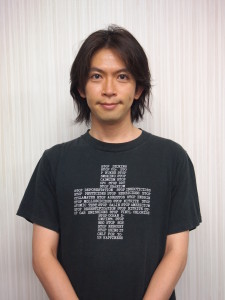 It has been six years since Daisuke Ishiwatari last visited AX, and we are very excited to welcome him back for Anime Expo 2015~!
Daisuke Ishiwatari is a game creator at Arc System Works in Yokohama, Japan.  He is best known as the father, aka General Director, of the "Guilty Gear" fighting game series.
In terms of creative production, he is a multi-talented creator who handles everything from scenario writing, game design, and character design to music composition.  He also composed the music used in the "BlazBlue" fighting game series, which is also developed by Arc System Works.
The latest version of the Guilty Gear series, "Guilty Gear Xrd -SIGN-" was released in 2014. Not only has he received praise for his technical innovations in the fighting game genre, but the latest entry into the series has received a great deal of praise for its visuals, which manage to give off the impression of being hand-drawn 2D graphics despite being made using 3D rendering technology.
Ishiwatari will have a Q&A panel as well as free autograph sessions. Schedule TBA late May ~ early June. Check his guest page for updates.