We are excited to announce Momoiro Clover Z as a Guest of Honor at Anime Expo 2015. They will perform on Thursday, July 2nd at Nokia Theater L.A. LIVE and will be joined onstage by Paul Stanley and Gene Simmons of KISS as special Guests of Honor.
Momoiro Clover Z and KISS, collaborated on the single "Yume no Ukiyo ni Saitemina" released earlier this year. Momoiro Clover Z is also known for the theme songs of "Dragon Ball Z" and "Pretty Guardian Sailor Moon Crystal". This Anime Expo concert marks the third time Momoiro Clover Z has performed internationally with previous performances in 2012 in France at Japan Expo and in Malaysia at HARI BELIA NEGARA.
Tickets will be released for sale in early June on the Anime Expo website: www.Anime-Expo.org
Follow us on Facebook, Twitter and our website for the latest updates!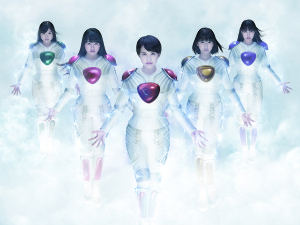 More about Momoiro Clover Z
Starting out as the "Idols you can meet now," Momoiro Clover Z made their major debut in May of 2010 with "Let's Go! Phantom Thief Girls." Their 2nd album "5TH DIMENSION," was the first to reach the 1st position in the Oricon Weekly Chart, then in March of 2014 they had their "2DAYS" concert in the National Olympic Stadium, something that they truly desired. At the end of last year, they made their 3rd appearance in NHK's Kouhaku Uta Gassen show. Momoiro Clover Z has already released 3 singles during this first half of 2015.