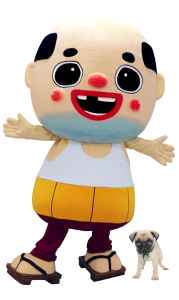 Ossan is one of Japan's top local mascots along with Kumamon and Funassyi. (There are more than 3000 mascots (called "Yuru Chara" or "Go-torch characters") in Japan, with each representing a specific prefecture or city.)
Real name Shinichi Sakata, Ossan is a middle-aged Japanese guy from Hyogo prefecture who speaks in Kansai dialect. Ossan has become one of Japan's favorite pop culture characters with his sharp tongue and warm fatherly advice, appearing on Harajuku Kawaii Fashion Shows, game shows, and other Interactive events. People in Japan think he is very funny — ask him to play the national anthem and see what he does! There is a rumor that you can gain good luck if you get a chance to rub his shiny bald head… but you always have to ask him nicely!
Win prizes by finding Ossan at AX 2015!
Tweet or Instagram a picture of yourself rubbing Ossan's head and use #FoundOssan for a chance to win prizes such as an iPhone 5s case, Ossan plush, or Ossan pen!
Ossan will be making appearances throughout the weekend at the community stage in Entertainment Hall, presenting Japanese culture and comedy routines. He will also be available for photo sessions and may be found roaming the convention floor.