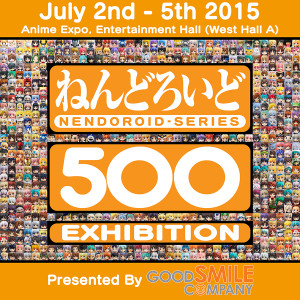 In addition to the Little Witch Academia: Enchanted Parade Gallery with Studio TRIGGER, Good Smile Company will also present the Nendoroid 500 Exhibition at Anime Expo 2015
Shown for the first time in North America, all 500 Nendoroids will be on display in the Entertainment Hall! Come see all your favorites in person and even learn how Nendoroids are made!
Plus don't forget to join Good Smile Company on Thursday July 2, 2015 at 2:30pm for their panel "How your favorites become figures" as Good Smile Company's Mamitan and President Takanori Aki discuss how figures go from concept to reality.