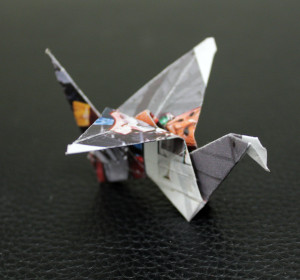 On April 25, 2015, Nepal had a major earthquake that caused serious damage to the country.
While brainstorming the Charity Auction recipient for Anime Expo 2015, our Volunteer Manager presented the idea of having a special project: 1000 Paper Cranes for Nepal.
According to Japanese folklore, 1000 paper cranes is a symbol of good luck and healing. This year at Anime Expo, we are inviting attendees, guests, and staff volunteers to help in making the 1000 paper cranes. We will be stringing all the cranes together and auctioning them off as a whole. The proceeds of which will go to CARE for disaster relief in Nepal.
If you are interested in making a crane, come by the Art Show Walls in the Entertainment Hall and one of our friendly Staff Volunteers will help you make one if you don't know how. It's free to make one, and it will help a worthy cause.
After you're done making your crane, we will take your name down so we can thank you personally on the Anime Expo website. Thank you in advance for your support and hope you have a great con~!