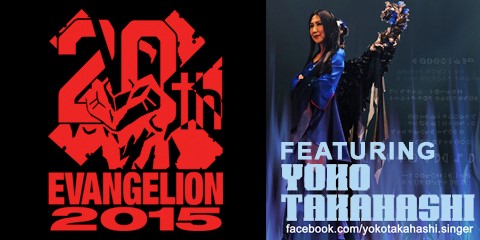 20 years ago, Evangelion redefined a genre of anime so completely that the world was never the same. Join us for this this amazing celebration and concert featuring YOKO TAKAHASHI – the original singer from the series with a multimedia concert.
The NGE Celebration also features voice actors from Evangelion (TBA), Q&A panels, NGE Celebration videos – more musical guests including Alice Underground and famed cellist Éru creating live Eva inspired music. A special cosplay competition, selecting cosplayers in the audience for for prizes. All of this and much more awaits at the NGE 20th Anniversary Celebration Experience at Anime Expo. It will be an amazing show!
EVENT DETAILS
When: Sunday 7/5 @ 1:30PM ~ 3:30PM
Where: Main Events, West Hall B
Pricing: $35 ~ 45

(*plus Eventbrite processing fees)

Tickets go on sale to General Attendees at 9PM PDT on Tuesday, June 30th
Premier Fan Pre-Sale Period: June 30th, 9AM ~ 9PM

Check your email for more details!