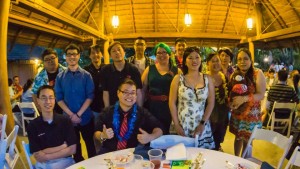 Driven by their passion for anime, many of our volunteers bond over working together and supporting one another to make the various events at Anime Expo possible. The Annual Volunteer Dinner is one of many events held throughout the year to support our volunteer community.
The Annual Volunteer Dinner (AVD) brings together volunteers to thank them for their hard work and to celebrate the past year's Anime Expo.
Dressed in colorful Hawaiian button-up shirts, bright colors, and classy semi-formal attire for the [optional] "Tropical 90's" theme, volunteers arrived for food, fun, and goodies, which consisted of free posters passed out at the door, raffles, and recognition awards for outstanding performance.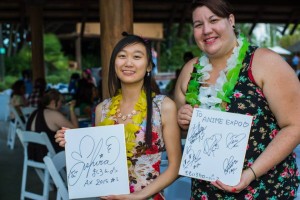 As the bustling sounds of clinking forks and eating subsided, volunteers sat on the edge of their seats listening intently to raffle numbers for a chance to win shikishi boards signed by the past year's Guests of Honor, as well as other goodies.
Prior to AVD, volunteers' nominated their fellow peers for a "Kudos Award" to recognize those who went above and beyond. The highlight of the night continued as they cheered their teammates on-stage for being named as AX 2015 "MVP's".
In the midst of departments welcoming back their fellow volunteers with smiles, group pictures, and photographs, a thank you video and slideshow of memories displayed a flashback of the overall mission accomplished by our volunteers and the connections that formed between departments.
As always, Anime Expo would not be possible without the commitment and enthusiasm of all our volunteers, and we are all honored to be a part of an event that touches the lives of so many people in so many different ways. With plans for next year's conventions already in motion, we  are all looking forward to planning another fun and exciting AX 2016 and striving to continue improving year after year.
Photos by Dennis Chu. Written by Joanna Phung.