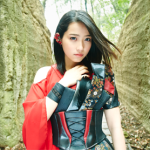 MICHI, the first Anisong artist from Okinawa, aims to share her love for anime with the world–her personal motto is "Anime is a universal language." Her debut single, "Cry for the Truth/Secret Sky", was featured as the main theme song for Rokka -Braves of the Six Flowers-.
MICHI will be heading to Anime Expo 2016 for her first North American convention appearance! In addition to her panel and autograph sessions, MICHI will be performing on the Community Stage.
Coming from Koza, the heart of the Okinawan music scene, she developed a straightforward and carefree singing voice. With a rare expressiveness and innocence that fans love, MICHI is paving the way for a new generation of anisong artists.
MICHI's second single, "Checkmate!?" can be heard in Dagashi Kashi's opening theme. Her third single, "Realistic!" will be featured as the ending theme for P.A. Works' upcoming series, Kuromukuro.