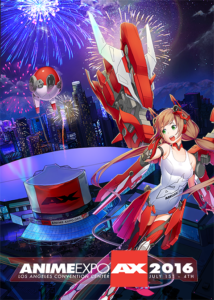 We recently finalized our program guide art recently, so, of course, we updated our social media banners to feature it~!
This year's cover features our mascot, MAX, flying over downtown Los Angeles. We worked with Collateral Damage Studios (aka CDS) to create this art, and we think they did a wonderful job capturing the spirit of MAX and Anime Expo!
Premier Fans will receive an mini-poster of this same art, which will be available to pick up in the Premier Fan Lounge. We'll also have a "Show Shirt" available at the AX Official Merch Store, which will have the same art on the front.
CDS also provided illustrations for our official merchandise! Stay tuned for previews coming soon! \(^o^)/