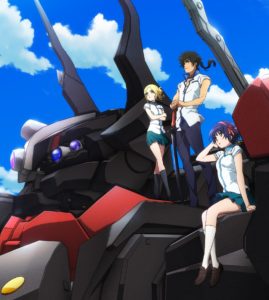 North American Premiere Screening of P.A.WORKS' 15th Anniversary Project "Kuromukuro" eps 1&2! Come join us to see America's first screening of the samurai-mecha action series, created by studio P.A.WORKS, directed by Tensai Okamura, and brought to you by Pony Canyon! The screening will be accompanied with a talk show with producer and CEO of P.A.WORKS, Kenji Horikawa.
Available first season (13 Episodes) streaming July 4 on Netflix.
Schedule:
When: Saturday (7/2), 6:45 PM – 8:15 PM
Location: LP3/LACC 408AB
"Kuromukuro" Story Description:
During the construction of the Kurobe Dam, an ancient artifact is discovered. With this discovery, the United Nations Kurobe Laboratory is established at Kurobe dam and at this institute, intellectuals from all over the world are gathered to research the artifact. The children of these researchers, including the institute head's daughter, Yukina Shirahane, attend Tateyama International Senior High School.
One day, unidentified invaders fall from the sky and commence invasion. Yukina is attacked by one of the invaders but is saved by a mysterious man who has come out of the artifact, Kennosuke Tokisada Ouma.
Kenji Horikawa is the Founder/CEO & producer of animation studio P.A.WORKS. Produced shows: Charlotte, SHIROBAKO, Angel Beats!, and Kuromukuro, soon on Netflix.
Other Related events:
"Kuromukuro" Episodes (1-2) Screening

When: Day 3 – Sunday (7/3), 9:30 PM – 10:30 PM
Location: Video 2/JW Marriott Platinum Ballroom
P.A. WORKS: 15TH ANNIVERSARY EXHIBIT
Location: Entertainment Hall (West Hall B Booth #8)
※ The schedule, exclusive products, and booth specials are subject to change
※ Check at the booth for specific information about booth autograph sessions and events.