Because we know that many of our attendees enjoy Japanese video games as well as anime, Meg stopped by some of the various booths at E3 to find out what's planned for AX 2016! This year, AX will host a number of video game, visual novel, and mobile game companies, creators, and more. Check out the rest of the post to find out about just about all the game-related events, panels, booths, and demos available at AX 2016:
Find the news below, sorted by company in alphabetical order:
Aksys Games (Booth #2805)
Bandai Namco (Booth #2101 & Entertainment Hall)
Demos: Dragon Ball Z Xenoverse 2, Tekken 7, God Eater 2: Rage Burst, Tales of Berseria, JoJo's Bizarre Adventure: Eyes of Heaven, Sword Art Online: Hollow Realization
Tournaments: Daily in Entertainment Hall (sign up onsite)

BANDAI NAMCO will host 4 tournaments each day July 1-3 for One Piece Burning Blood, Naruto Shippuden Ultimate Ninja Storm 4, Dragon Ball Xenoverse, and Tekken 7.  The grand prize for each winner is a Xbox One console.  We will award 12 Xbox One consoles.  In addition there will be games and other prizes awarded to second through fourth places.

Photo Opportunities: Tekken Dojo,  DBZ Spirit Bomb, plus, check out their God Eater display in the South Hall Lobby.
Panel: Quest Complete! BANDAI NAMCO Entertainment RPG Panel

Monday July 4, 2016 1:30 PM- 2:30 PM, (Live Programming 2 / 403 AB)
CAPCOM (Booth #505)
Demos: Monster Hunter Generations, Phoenix Wright: Ace Attorney- Spirit of Justice

Check out their booth for a Phoenix Wright photo op, and an awesome Monster Hunter demo station

Panel: Objection! Go Behind the Courtroom of Ace Attorney

Saturday, July 2, 9:45 AM- 10:45 AM (Live Programming 2/ 403 AB)
Idea Factory (Booth #808 -809)
First time participating at AX! They'll have official merchandise available for purchase.
Demos: Fairy Fencer F Advent Dark Force, MeiQ: Labyrinth of Death
Inti Creates (Booth # 310 / 311)
Developer of many Mega Man games, plus the upcoming Mighty No. 9, Inti Creates will be participating in AX for the first time this year!
Demos: Azure Striker Gunvolt 2, Bloodstained: Ritual of the Night
Panel: Creating New Games with a Retro Flair: Keiji Inafune and Inti Creates

Sunday, July 3, 4 – 5 PM (Main Events / Hall B)
NIS America (Booth # 2605)
Square Enix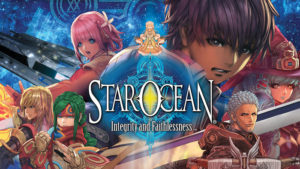 Star Ocean Launch Party: Join us as we cele
brate Star Ocean's 20th Anniversary with the developers, character designer Akiman, Voice Actors and special guests!

July 2: 5 PM – 9 PM (Lounge 21)

Panel: Star Ocean: Integrity and Faithlessness – Aligning the Stars

July 2: 10:15 AM – 11:15 AM (Petree Hall)

Star Ocean Fan Gathering

July 1:  4 PM – 6 PM (Gilbert Lindsay Plaza / Cosplay Gathering Site # 6 – see map)

Screening: BROTHERHOOD FINAL FANTASY XV EP 1&2

Saturday, July 2 at 1:45 PM (JW Marriott Platinum Ballroom / Video 2)
Additionally, you'll also be able to find:
Additionally, be sure to check out the Entertainment Hall for the eGaming area with free play and tournaments, as well as the arcade!
Guests & Industry Appearances:
Akiman (Illustrator/Character Designer for Street Fighter series, Darkstalkers series, and mechanical designer for Code Geass)
Alice in Dissonance
bamboo (Founder of visual novel developer OVERDRIVE)
CreSpirit
Hiroshi Ogawa (Tri-Ace, Director of the Star Ocean series and Valkyrie Profile series)
Keiji Inafune (Creator of Mega Man series and Mighty No. 9)
Koji Igarashi (Co-Founder and Producer of ArtPlay; Producer and Scenario Writer for "Bloodstained: Ritual of the Night)
Koki Yoshimune (President of the PC gaming brand  "âge", original author of the series "Kimi ga Nozomu Eien" and "Muv Luv". )
Kotaro Uchikoshi (Spike Chunsoft Co. Ltd. Director, Zero Escape creator)
Shuichi Kobayashi (Square Enix, Producer of Star Ocean: Integrity and Faithlessness)
Yu Mizokami (Director/Designer of Yomawari: Night Alone)
Yuro Kyoya (Director of Touhou genso Rondo: Bullet Ballet)
ZUN (Creator of Touhou Project series)