We're excited to announce the talented English voice cast of Star Ocean: Integrity and Faithlessness will be in attendance at Anime Expo:
Schedule:
Saturday

10:15AM – 11:15AM: Star Ocean: Integrity and Faithlessness "Aligning the Stars" Panel (Petree Hall)
Appearing Cast Bios
Crispin Freeman is a voice actor, director and script adaptor who's been portraying characters in animation and video games since 1997.  He's worked on a myriad of anime shows including Hellsing, Naruto, Ghost in the Shell, The Big O, Final Fantasy: Advent Children, Wolf's Rain, Witch Hunter Robin, Chobits, Blood+, Last Exile, Revolutionary Girl Utena, Slayers, The Irresponsible Captain Tylor, The Melancholy of Haruhi Suzumiya, Durarara & Miyazaki's "Howl's Moving Castle" and "Ponyo".  In the world of video games he's played Superman, Iron Man, Dr. Manhattan, Legolas, as well as Will Turner from Pirates of the Caribbean. He plays the Male Wizard in Diablo III, Helios the Sun God in God of War III and both Breakdown and Grimlock in Transformers: War for Cybertron. He's been in such high profile Japanese games as Xenosaga, Final Fantasy, White Knight Chronicles and Metal Gear Solid. In American animation, he's voiced characters in the Spectacular Spider-man series where he played Electro as well as the show Wolverine and the X-men where he played Multiple Man. He's currently playing Speedy and Red Arrow in the DC animated series Young Justice.
Eden Riegel voices characters in numerous high-profile interactive titles. She can also be heard as the voice of Kiara on Disney Jr's hit series, The Lion Guard. On-camera, Eden played Bianca Montgomery on the long-running soap opera All My Children, for which she won a Daytime Emmy Award and several nominations.  She has guest-starred on NCIS, Hawaii Five-0, Criminal Minds, Rizzoli & Isles, and Castle, among others. She can be seen opposite Jack Black in Harold Ramis's Year One, and in the original American Pie movie directed by Paul Weitz. She won a Webby Award and an Emmy Nomination for her web series starrer Imaginary Bitches. She has two Indy films coming out this year, Sci-fi thriller ISRA 88 and dark comedy, Living Room Coffin. For more information visit edenriegel.com.
Tessa is an actress and YouTuber who began her career on Broadway in Billy Elliot the Musical and now lives and works in LA. TV credits: Disney Channel's BUNK'D (Hazel), Nickelodeon's Fred: The Show (Eloise), Fox's Glee (Apple #9), plus various national commercials and voice over work- Star Ocean: Integrity and Faithlessness is her first time voicing a character in a video game! Her geeky YouTube channel com/tessaROXX has over 12 million views and her favorite thing in the entire world is Harry Potter. @tessanetting
Chris started his career in the original Robotech and Captain Harlock series' as third-guy-from-the-left-who-screams-when-he-blows-up. These days he plays characters with actual names, in shows like Phineas and Ferb, Digimon and One Piece, and in games like Lego Batman, Elder Scrolls and Star Ocean. Names like Luke Skywalker, The Joker, Superman, Batman, Leonardo, Kittan, Headmaster Kaien Cross, Kinnosuke, Spandam, Ishidate, Peter Soyuz, Matoko Kibune, Wonderweiss, Jijimon, John Balks, Molag Bal, Razum Dar, Annoyotron, Ryo, Raizer Poenix, Albus, Rufus, and of course, Emmerson. Plus about two thousand more. He also narrates Star Wars books for Disney, and is Hank Johnson in the worldwide augmented reality game, Ingress.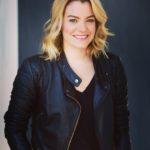 Aimée Castle: The voice of Fiore Brunelli (Star Ocean: Integrity and Faithlessness)
Erica Luttrell: The voice of Anne (Star Ocean: Integrity and Faithlessness)