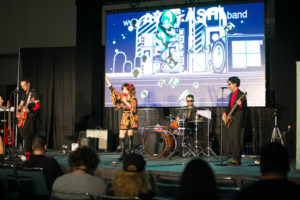 Continuing the tradition of supporting the Community through performance, the Community Stage in the Entertainment Hall is calling for performers! This stage has previously featured eGaming tournament finals, as well as performances from Chii Sakurabi and Survey Corps.
From martial arts demos to dance performances to singers, we want to spotlight our attendees' creative endeavors! Interested in performing on the Community Stage? Send us your information by submitting an application below:

Four microphones a basic audio/visual equipment are available.
Stage size: 32′ x 16′
Amps are not provided
Thank you very much! We have received many applications and will be closing the applications early, as all the spots have been filled.