ALICE IN DISSONANCE is an indie game development group founded by Munisix with Art Director Hare Konatsu operating in Japan. Founded in 2012, they are the creators of the "fault" Series, a Science Fantasy Cinematic Adventure/Visual Novel that has sold over 100,000 copies worldwide. Currently they are working on their next title, fault -SILENCE THE PEDANT which is slated to release in Q4 of 2017.
ALICE IN DISSONANCE will participate in panels and autograph sessions at Anime Expo 2017 (schedule TBD).
Twitter: @ProjectWritten
MEMBER BIOS
MUNISIX
Munisix is the founder of ALICE IN DISSONANCE, an indie game development group based in Japan. He is a self proclaimed writer and a hack fraud, as well as the creator of the fault series — an ongoing science fantasy visual novel/adventure series that has sold over 100,000 combined units worldwide.
Twitter: @munisix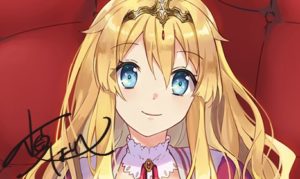 HARE
Hare Konatsu is a Japanese artist and art director of ALICE IN DISSONANCE in charge of everything visual in the fault Series. She will be taking limited commission requests available at the Sekai Project booth #4515.
Twitter: @hare727