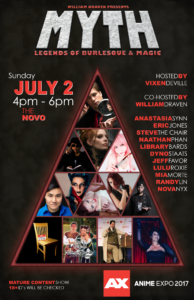 Join world renowned performance artists for an evening celebration of Anime, Japanese Pop Culture, Gaming Culture, and Convention nerddom in what is quickly becoming one of Anime Expo's signature events: MYTH: Legends of Burlesque & Magic. Taking over the beautiful NOVO venue, MYTH offers attendees a high caliber evening show experience in a new luxurious lounge setting complete with bar, and custom bar menu with themed cocktails just for the show! Marvel as our beautiful women tantalize and tease you in various forms of undress, allow your jaws to gape in awe as world renowned magicians from television shows like America's Got Talent, Pen & Teller's Fool Us, Masters of Illusion, and Don't Blink mystify you with amazing feats of world class illusions! This is one show you will NOT want to miss! Event is 18+ & ID's will be checked at the door. Come be a part of the magic, be a part of the MYTH!
MYTH: Legends of Burlesque & Magic is a mature show and only suitable for audiences 18 years or older. ID's will be checked.
GO. SEE. THIS. SHOW! It is an absolute blast, beginning to end.
– Michael Chabolla – RACKET Magazine"
Event details
Performers: Vixen DeVille, William Draven, Anastasia Synn, Eric Jones, Steve the Chair, Naathan Phan, Library Bards, Dyno Staats, Jeff Favor, Lulu Roxie, Mia Morte, Randy Lin, and Nova Nyx
When: Sunday, July 2, 2017 @ 4 – 6 PM
Where: The NOVO (Card/cash bar available)
Tickets On Sale:

Premier Fan: Friday, May 12 at 6 PM PDT
General Attendee: Sunday, May 14 at 6 PM PDT

Pricing: 

Floor (Seated): $30
Floor (Standing): $25
Balcony: $25