maidreamin is back!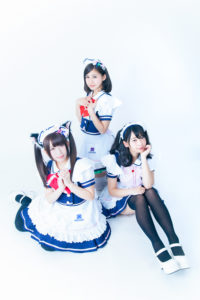 From the No.1 Maid Café restaurant in Japan, three of the top maids Ayame, Peace, and Yuno are coming back to the Maid Café with 2017 Anime Expo new official song! They will have their own booth too!
Come visit the AX Maid Cafe to see maidreamin July 1 – 4, at the 10 AM and 12:30 PM shows.
maidreamin is the symbol of Akihabara, famous for having unique menus and by servings meals and drinks with cute magical performances.
Please come by our Maid Café and experience the authentic "moe moe kyun" maid service.
Check maidreamin from AX 2016:

Ayame will be returning to AX 2017, along with two new members, PEACE and YUNO!
Maid Cafe Tickets On Sale:
Premier Fan: Friday, May 12 at 6 PM PDT
General Attendee: Sunday, May 14 at 6 PM PDT
Maid Cafe (All Ages)
Price:  $25
Schedule:  Saturday, July 1 – Tuesday, July 4 at 11 AM  & 1:30 PM
*4 ticket limit per order. Doors open 30 mins before start of show. Once doors close, no late entry, no refund or exchanges for missed show. Premier Fan Discount Code can be applied for this event.
*Please note that the Maid Cafe is not an actual cafe. While food/drink is available for separate purchase, the maids will not serve food or drink to attendees.