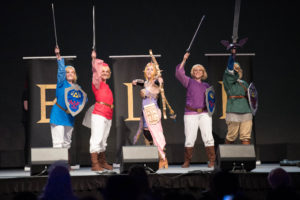 The Anime Expo Masquerade has been a longstanding tradition, running for over 20 years and  is a cosplay and performance competition, with one of the largest cash prizes in the country. People from all around the world compete in our grand showcase of cosplay and performance!
EVENT DETAILS
When: Sunday, July 2, 2017 / 8 PM – 10 PM
Where: Main Events (Hall B)
Tickets On Sale:

Premier Fan: Friday, May 19 at 6 PM PDT
General Attendee: Sunday, May 21 at 6 PM PDT

Price:  $5 (Bronze) / $10 (Silver) / $15 (Gold)
*4 ticket limit per order. ADA & wheelchair seating available upon request. Please contact events@anime-expo.org to reserve now. All sales are final. No refunds, no exchanges.