Come experience a variety of evening entertainment, games and drinks. Every guest will receive one complimentary drink upon entry. Tables will have the chance to win another round of drinks or Anime Expo show tickets! Hosted by artist, entertainer and cat fanatic, Steven D'onofrio.
Event Details
When:

Pre-Show Night (June 30): 11:30 PM Must have a Pre-Show or Premier Fan badge
July 1 – 3: 2:30 PM / 5:00 PM / 9:30 PM / 12:00 AM
July 4: 2:30 PM

Where: LACC, Concourse Hall Room 403A
Tickets On Sale:

Premier Fan: Friday, June 2  at 6 PM PDT
General Attendee: Sunday, June at 4 PM PDT

Price:  $25
21+, must have a ticket plus a badge and a valid government photo ID with date of birth for entry. Check-in begins 30 mins prior to the show.  Security will be conducting ID check prior to check-in at the door. Doors close promptly when show starts, no late entry allowed. No refunds, no exchanges, all sales are final. 4 ticket limit per order.
ABOUT THE PERFORMERS
Steven D'onofrio
Steven is an official content creator for Viewster.com. In his comedy web series, KAWNPAI, Steven creates custom cocktails based on an anime or video game. He also has a YouTube series titled I JUST ARTED. The series focuses on Steven (and guests) drawing and drinking together. Guests on the show currently include voice actresses, Tara Sands (Pokemon), Daniella McRae (League of Legends) and Lauren Landa (Sailor Moon).
momomc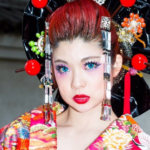 Returning to AX 2017 is the world-famous Japanese artistic pole dancer*, momoMc (pronounced "MOMO MAC") who will be joining this year's Night Café. She has won various titles including Grand Award Winner in 2015 at the prestigious International Theater Japan (Professional Pole Comedy) and at Pole Battle Tokyo (Sexy Category). momoMc's demonstration of style and technique showing off her amazing athleticism, cuteness and sensuality has enthralled thousands of passionate fans over the past decade, always leaving guests yearning for more. This year, she will be dazzling attendees with several costumes during her performances including a maid, a geisha, and cosplays from various popular anime series, such as Ayanami Rei from Neon Genesis Evangelion and Rum from Uruseiyatsura.
*momoMc be attending all shows, but will only be pole dancing for the Pre-Show Night one, the 2:30 PM show, and the 12 AM show.
Marcella Raya
Marcella Raya is a professional belly dancer, samba dancer, and theater actress. She has graced the stages in Southern California, toured on the east coast with the Festifun musical, entertained in the Love and Peace Festival in Cairo, Egypt, and danced with Mangueira samba school for Carnaval in Rio de Janeiro, Brazil. You can also catch her weekly in her role as Princess Catalina at Medieval Times in Buena Park. Marcella is a southern California native and honored to be part of this year's Night Cafe at the Anime Expo!
Andrea Kim
Hello everyone, I'm Andrea and I've been a pole dance aficionado for 5 years! I was drawn to pole dance because it is such a fun and different type of workout. Also because I can wear tall heels which makes me feel like a sultry Amazon since I'm barely 5 feet tall. I'm a former gymnast and love how pole dance combines the elegance of dance and the athleticism of gymnastics together. In 2014 I started competing with Rhiannan Nichole's Premier Pole and my most recent competition this year was at the 2017 Pacific Pole Championships in the women's professional division. Thank you AX for having me!