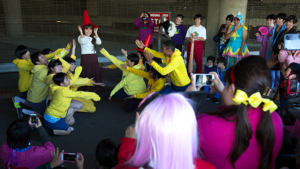 Cosplay gatherings are a cherished part of conventions, where fans can bond over their shared love of a series. For years, Anime Expo's cosplay gatherings have been organized by the fans, for the fans. In order to help facilitate safe gatherings for AX attendees, approved sites were introduced a few years back. With attendance having grown to over 100,000 attendees and security needs requiring changes to the way the Los Angeles Center is accessed, our approved cosplay gathering site locations needed to be re-assessed and updated.
We are also aware that attendees had difficulty with re-entering the convention center when accessing some gathering locations during AX 2017. These issues have been addressed and will be resolved for AX 2018. Previous areas that were designated as "exit only" will now have adjacent entrances where you will be able to re-enter.
Updates for AX 2018:
Site #2 (located on the stairs next to South Hall, facing Pico Blvd.) can no longer be utilized.
New location from 2017, Site #3B, is now the new Site #2. This site is located on the stairs outside West Hall, on Chick Hearn Ct, across from LA Live. Please move any scheduled gatherings from the old Site #2 to a different location.
The approved gathering areas for the new Site #2 (formerly Site #3B) and Site #3 have been adjusted. Please be sure to keep gatherings within the approved areas, as indicated by the map.
The location of Site #6 (located in Gilbert Lindsay Plaza) has been shifted slightly.
Based on feedback from attendees, we have added another approved location to accommodate even more gatherings during Anime Expo! The new Site #9 is located on the stairs under the awning on the corner of 15th Dr and Figueroa St. This site is suitable for small-to-medium gatherings and can support 2-3 gatherings at a time. Please be mindful of sidewalks and any lines for building entry.
Please see the map below for the updated cosplay gathering locations.
All of our Cosplay Gatherings are organized by attendees, primarily on the Anime Expo forum on Cosplay.com. For more information about when your favorite series' cosplay gathering will take place, please check the schedule.
AX 2018 Cosplay Gathering Schedule
*Please note that the cosplay gathering schedule provided is not managed by Anime Expo and is subject to change. Please refer to the Anime Expo forum on Cosplay.com if you have any questions.