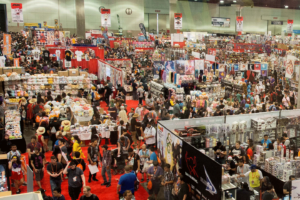 We're happy to announce the release of the AX 2018 exhibitor list!
Our Exhibit Hall takes up the entirety of the Los Angeles Convention Center's South Hall, which is approximately the size of six football fields! (346,890 sq ft)
Click to Explore Exhibitor List
Don't forget!
Starting this Friday, Nov. 24 at 12:01 AM, save 50% on Pre-Show Night badges until Monday, Nov. 27, plus get a Premier Fan badge or a discounted 4-day badge, while supplies last! Check out the full details to learn more about the Black Friday sale.
*List subject to change without notice. Exhibit Hall not open during Pre-Show Night.