With 900+ hours of programming, there's bound to be things to do at AX you've never heard of or been to, even among our long-time attendees! But, if you know about all these things already, then you are definitely an expert attendee of AX.
1. Acoustikaraoke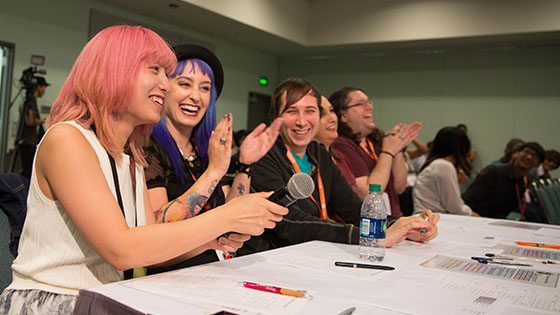 With two different rooms, Karaoke Open Mic and events are a fairly well-known and beloved part of Anime Expo. But do you know about the variety of Karaoke contests held at AX? One of our volunteer team's favorites is Acoustikaraoke! Acoustikaraoke is a chance for musicians of all kinds to show off their talents through instrumental numbers, original arrangements, and ensemble performances.
Learn More about Karaoke Events
2. Display Your Work in the Art Show (or just go check it out!)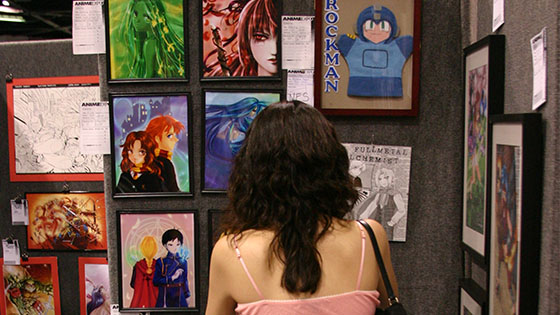 After a few years of hiatus, the Art Show was re-introduced in 2016 as part of the Entertainment Hall. Art Show  showcases traditional art, sculpture, and models by the attendee community.  Starting in 2018, there will no longer be a charge for displaying your work in the Art Show. Entry will be on a first come, first serve basis.
3. Anime and Manga Studies Symposium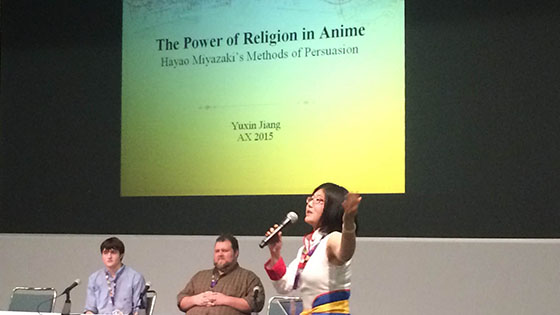 Since its start in 2011, the Symposium has been a leading site for academic discussion on how anime/manga are created and distributed, their history, the themes and issues they explore, their connections to other Japanese and global media, how fans around the world interact with them. Uniquely, as an integral part of Anime Expo's programming, it serves to foster relationships and facilitate conversation between academics and the general public while also supporting and promoting the development of anime/manga studies as an academic field.
Notable talks from previous years include:
"Anime for Aspiring Filmmakers: Lessons from the USC School of Cinematic Arts" by Ellen Seiter in 2016
"Before Ghibli was Ghibli: How an Anime Studio is Born" by Rayna Denison Senior Lecturer, Art, Media and American Studies University of East Anglia
Keynote Addresses by Marc Steinberg in 2014 (Assistant Professor, Film Studies, Concordia University) and Ian Condry (MIT) in 2011
Want to get involved? Be sure to look out for the Call for Papers! The Symposium is inter-disciplinary and welcomes approaches from different fields. Early-career academics, graduate students, undergraduates, and independent scholars/industry professionals are especially urged to submit proposals!
Read More about the Academic Program
4. Check out Career-Oriented Workshops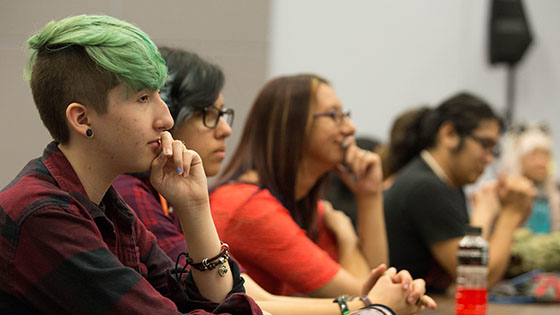 Have you always dreamed of working in the anime or gaming industry? We invite current working professionals to present topics such as ADR engineering, subtitling, and game localization. Career workshops are marked in the schedule with a briefcase icon and are all scheduled on a specific day, which is designated as Career Day!
5. AMV Chef

Inspired by Iron Chef, the competitive cooking show that predates Food Wars, AMV Chef pits two AMV masters against one another to create a fresh AMV using a twisted selection of ingredients! With only two hours on the clock, they have to edit an AMV completely from scratch! It's fun and games with prizes for the audience, but sweat and stress for the chefs!
Whether you're an AMV aficionado or just discovering AMV's for the first time, AMV Chef is an opportunity to get a good all-around taste of what our AMV Theater is like!
Learn More about the AMV Theater
6. Try Your Hand at Cosplay Poker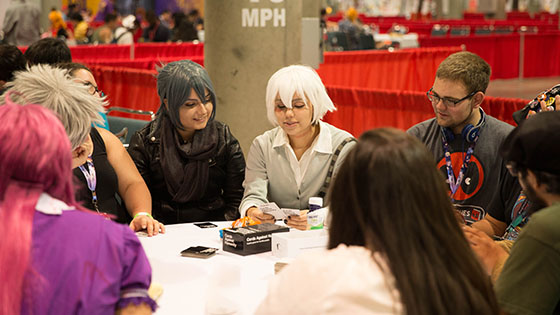 Hosted by the AX tabletop gaming volunteers, Cosplay Poker is free to enter as long as you have a valid AX badge. While cosplay is not actually required for this event, players in cosplay approved by the judges will be awarded extra chips at the start of the event. Our Cosplay Poker is run as a tournament-style No-Limit Texas Hold 'em, with prizes for the top players. We run two poker events each year, but space is limited so sign up early!
(Yes, the photo above doesn't actually show people playing cosplay poker, but it's the closest thing we had available…)
7. Meet the SPJA Board of Directors

Did you know that AX is run by a non-profit called SPJA? SPJA stands for the Society for the Promotion of Japanese Animation, and it was started by UC Berkeley students back in the early 90's. Every year at AX, the Board of Directors hold a panel or open meeting, which all are welcome to attend. The Board of Directors supports the work of SPJA and provides mission-based leadership and strategic governance. Just like the 1500+ volunteers that make AX possible each year by helping in one of the 60+ departments, SPJA Board Members are volunteers too!