Anime Expo celebrates all things gaming, as well as Japanese gaming and culture! We're excited to expand the current eGaming Free Play and Arcade areas to include tabletop gaming for an all-around gaming extravaganza!
In 2018, the gaming experience in the Entertainment Hall will feature:
The Return of Tabletop Gaming!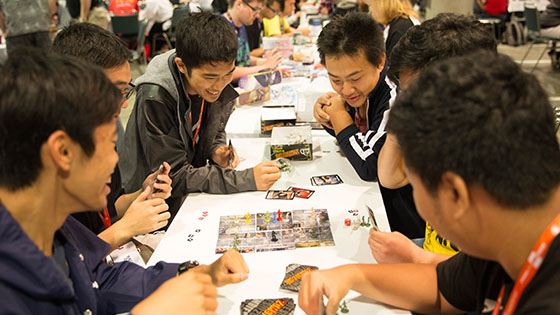 Tabletop gaming will make a triumphant return to its rightful place in the Entertainment Hall alongside eGaming. (We're not entirely sure what we were thinking when we moved it to Kentia Hall…) Explore our extensive library of 150+ games to find every type of tabletop game out there–from board games to card games, dice games to paper and pencil games, role-playing games to strategy games, and even tile-based games! Bring your deck to play with friends or sit down and join a game where you can make new friends! Tabletop gaming programs include free play, learn-to-play events, demos, and tournaments. (Yes, you can win prizes, like these snazzy AX dice or this exclusive playmat!)
eGaming Free Play!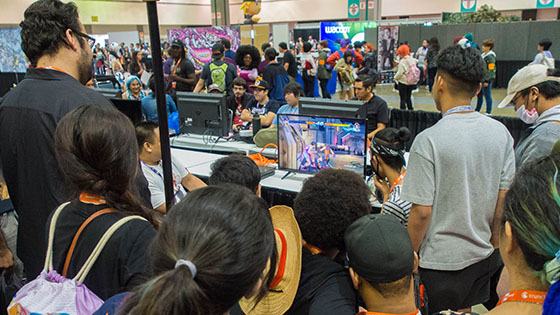 With 70+ current and past generation consoles available from Sony, Microsoft, and Nintendo, as well as 20+ PC gaming stations, there are plenty of choices for you to enjoy! Featuring brand new titles plus tried and true favorites such as fighting games, co-op games, rhythm and dancing games, Community events, and friendly competitions. The eGaming area is a must-see for video game fans.
Arcade!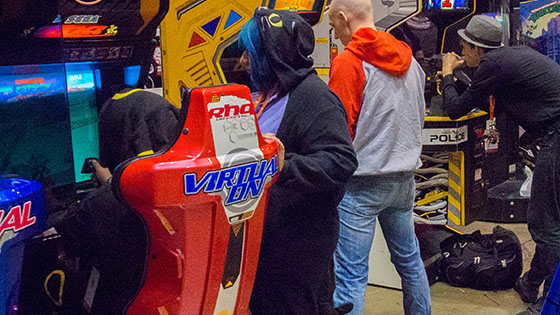 Check out a wide variety of modern and vintage arcade games, both domestic and from Japan. Try out some of the new or unusual games, play an old favorite, or show off a little on your favorite machine. Don't have any change to spare? No problem! Change machines are available for your convenience, so grab some quarters and play to your heart's content.
Be the first to check out the Entertainment Hall on July 4 for Pre-Show Night!
Don't forget: Starting this Friday, Nov. 24 at 12:01 AM, save 50% on Pre-Show Night badges until Monday, Nov. 27, plus get a Premier Fan badge or a discounted 4-day badge, while supplies last! Check out the full details to learn more about the Black Friday sale.