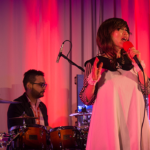 PERFORM AT ANIME EXPO! Are you a musician, DJ, cover band, visualist, dancer or other performance act that you believe is relevant to the Anime Expo stage? Would you like a shot at performing for a live audience at the largest Japanese cultural event in North America?
We're looking to feature well-known professional talent, as well as find the local, undiscovered acts that can be showcased and brought out into the spotlight for Lounge 21, AXDance, and Night Cafe!
Who Should Apply:
AX Dance: DJs and VJs
Lounge 21: Musicians, singers, cover bands, or other musical acts
Night Cafe: Dancers, burlesque performers, aerialists, drag queens, magicians, or other musical acts
Application Closed
Deadline to apply: February 17, 2018
All performers selected for Anime Expo 2018 will be notified by email by February 19, 2018. If you have not been contacted by that date, then you have not been selected for AX 2018. Please note that performance acts must be inspired by anime, manga, or Japanese music and pop culture.
If you have questions, email us at performers@anime-expo.org.