As part of our continued improvements to the Anime Expo experience, we have a few exciting announcements as it relates to badges!
First, we are pleased to announce that we will be utilizing RFID (Radio Frequency Identification) technology for our AX 2018 badges. Each badge will have an RFID chip, which will allow us to validate each entry into Anime Expo and prevent counterfeiting.
The upgrade to RFID has also helped make it possible to bring badge mailing back to Anime Expo this year! To learn more about badge mailing, be sure to check out the FAQ. Please be aware that you will still have to pick up your program guide, bag, and lanyard, which will be located at Figueroa Drive where badge pick-up was previously located.
Additionally, with the transition to RFID, we have updated our building entry procedures as well as our security measures. Upon entry, you will go through security check, then tap your badge in at one of the many entry portals to access the Los Angeles Convention Center/JW Marriott. A green light will flash to indicate that your badge is validated. You must tap your badge at the portals every time you enter or exit Anime Expo.  Remember to do this to prevent re-entry issues.
Please refer to the map below to see all the designated entrances to the convention center area. Each entrance will have multiple security checkpoints, along with entry portals.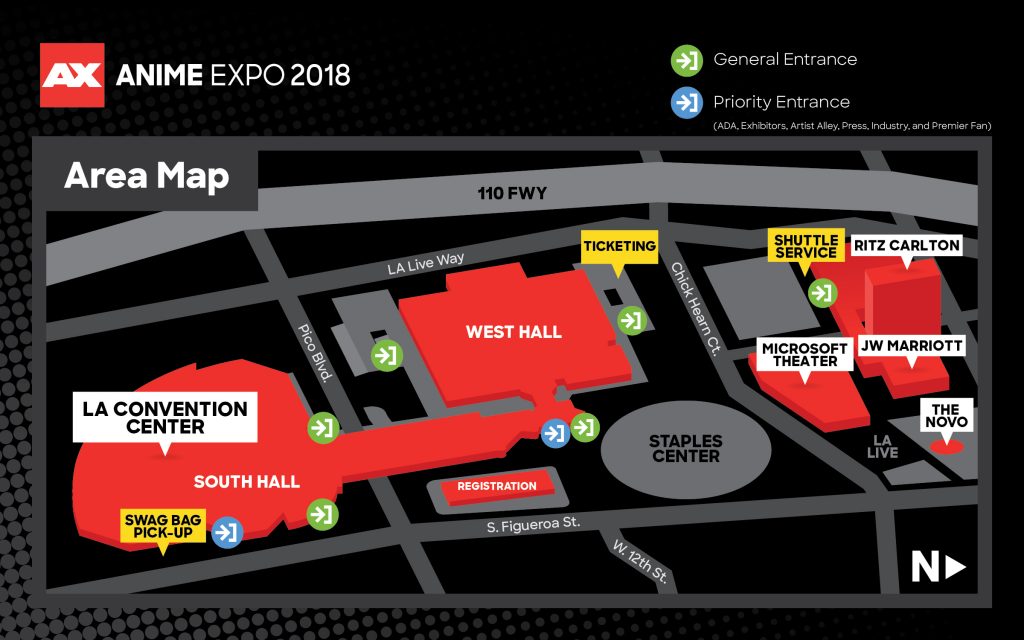 NOTE:
The general entrances (marked with the green icon) can be used by all attendees.
Priority entrances (marked in blue) are for ADA, Press, Industry, Artist Alley, Exhibitors, and Premier Fans. All individuals using the priority entrances will still be required to go through security check.
Not pictured in the map above are entrances into Kentia Hall from the South Hall parking garage. Anyone parking in West Hall will need to go out to the front entrance of the building.
Having badge trouble? Badge Help Desks will be located near each entry point to assist with minor RFID issues. To resolve a badge issue, you will need a government-issued photo ID to confirm that you are the badge holder on record. If you require further assistance, you will be redirected to Registration Assistance located at Gilbert Lindsay Plaza.
Secure your badge for Anime Expo 2018 early to ensure that it will be mailed ahead of time! Anime Expo 2018 will take place July 5-8, 2018, with Pre-Show Night on July 4th. 
Here is a step-by-step guide to entering Anime Expo 2018:
There will be multiple entrances into the Anime Expo event areas.
Make sure you have your badge on hand before you enter the security line. This will help reduce slowdowns in the building entry process.
If you are carrying a prop, be sure to visit a Weapons Check booth prior to entering the building entry line. Weapons Check booths are located outside of the South and West Halls for inspection and tag.
Proceed through Security, choosing no bag line or general bag check line as appropriate.
If you have a bag, simply place it on the table for inspection. Do not leave any bags unattended.

Please note: Clear bags, small clutch purses, and having fewer bags overall are highly recommended to decrease time spent at Security.

Once you're through security, proceed to an entry portal and "tap in" your badge. Wait for the green flashing light and beep before moving forward.
Now that you have entered the event area, you can enjoy Anime Expo without having to go through multiple security checkpoints!
Remember to tap out when you exit! This will allow you to easily return through security without having to go to a Badge Help Desk.
Q&A: 
How do I know that I tapped in / tapped out correctly with my badge?
If the portal flashes green, then you have tapped in / tapped out correctly. If the portal flashes red, you will be directed to the Badge Help Desk located nearby.
Do I need anything besides my badge when there is an RFID issue?
A photo ID will be requested to verify your badge. Children aged 13 and under should have an adult present at all times.
What if I forget to tap out?
If you forget to tap out, the staff at the Badge Help Desks located at all entrances can straighten things out for you.
What if my badge isn't working?
If you experience issues besides tap-in/tap-out, you will be redirected to Registration Assistance at Gilbert Lindsay Plaza. 
I just lost my badge, what do I do?
If you lost your badge, head over to Registration Assistance at Gilbert Lindsay Plaza. Any lost badges that are found will be turned in at Registration Assistance and will require photo ID verification. If you would like to replace your badge, you will be subject to a reprint fee, depending on the badge type. Your old badge will then be deactivated.
I am a Premier Fan. Which entrance do I use?
Premier Fan badgeholders may use both priority entrance and general entrances.