Wanna show us your moves? Got a crew with a routine? Make your way through tryouts and showca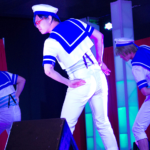 se your talent!
Guidelines:
Open to all ages!
Signing up does not guarantee a spot in the Showcase
AX badge required
Signups:
Signups will be restricted to the first set of categories.
Singles
Doubles
Squads up to 6
Squads up to 15
Entire group must be present in video submission.
Groups must have a Captain that will be a Point of Contact (PoC).
The PoC will be responsible for responding via email or text in case any questions or notifications arise.
Sign-ups are open from April 25th to May 25th and may close early if we hit the set number of groups listed above.
Audio:
Submissions will be accepted on-site through flash drives ONLY; No Exceptions
Songs must be in .mp3 format and at LEAST 192 kbps
Lyrics must be free of profanity. It must be clean or be censored
Songs will be previewed on site during check-in to ensure quality and rules
Showcase:
Out of the groups who send in their audition videos, the following will be selected:
(2) Singles
(2) Doubles
(5) Squads up to 6
(1) Squad up to 15
Showcase routines will be limited 4-5 minutes max.
Showcase performances will take place on stage
Groups will be graded on the following: Visual, Choreography, Performance
Deadline: June 7, 2018
For more information, questions or concerns, please feel free to email: mayraochoa@anime-expo.org