What is Late Comedy Showdown?
After making it through the tryouts, finalists compete in three rounds to determine the winner in a battle of comedic wits! Admission to Late Comedy Showdown is included with a valid Anime Expo badge on a first-come, first-serve basis.
How it Works:
The contestants will be divided into two groups.
One person will be chosen from each group to be in the finals determined by audience reaction.
Each finalists will be given a topic and will do a stand-up routine on the subject with limited prep time.
The winner will be selected by audience reaction.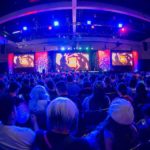 Prize: The Late Comedy Showdown Winner will receive the LCS 2018 "I'm Funnier Than You" Trophy, an AX 2019 Badge, and a special invitation to be an LCS 2019 Judge!"
Registration Details 
Those looking to compete will be split into two categories "Pre-Reg" and "walk-in". Only those who have signed up using our online signup sheet will be considered pre-reg.All competitors must register at our registration desk during the event before auditioning. At the time of Registration you will be given a number. All entries will be called up in numerical order starting with the pre-registered entries. Pre-Reg sign ups will end once we receive 15 entries which are determined on a first come first serve basis. All entries signs up taken after the initial 15 will not be registered. If you miss this window and you wish to audition then you must register during the event."
Late Comedy Showdown Rules
Total audition time is 2 minutes and 30 seconds.With a grace period granted for the competitor to finish their last joke.
For the sake of time and maximizing audition counts, LCS Judges reserve the right to cut any audition short if they feel the need arises.
All entries must be present by the time they are called. Failure to respond will result in your entry being forfeit.
Exchanging your number with another competitor is not allowed. Doing so will result in the disqualification of both parties.
The use of external media such as background music or musical performances is prohibited during both the LCS auditions and the main show
Final results on who was selected to perform at the Late Comedy Showdown will be announced at the end of the auditions. All finalists must be present in order to confirm their entry. No one else can accept these slots on their behalf.
Sign-ups Closed! Thank you!
Meet the Judges
Marcelous
Rai
sed in south central by his grandparents, Marcelous is a proud Father, Husband, and NERD! Now living in Monterey Park with his wife and in-laws, Marcelous embarks on a long dreamed career in comedy. With a passion for comic books, cartoons, anime, and technology, Marcelous uses his unique outlook on reality to raise his son and keep his wife from leaving him while enjoying life and staying out of jail. He has written, produced and hosted comedy shows for The Ice House, The Comedy Store, iO West and Lyric Hyperion Theater while performing alongside the likes of Margaret Cho, Bill Burr, and Melanie Vessey. Currently, he's writing and producing material for LycanNerdtv (YouTube) and LycanNerd.com
What He's Looking for as a Judge:
I am a True Saiyan, with that being said I'm looking for strength, pride and passion. Strength; confidence in your material, Pride; work and time put into your material, Passion; how does anime make you feel. I want to laugh at anime through your eyes (perspective).
Danny "D-Boy" Gonzales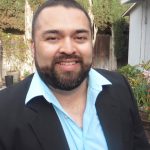 Danny "D-Boy" Gonzales has been attending anime conventions since 2006. In 2008, he made his first comedy debut at the Last Comic Stand during Anime Expo and took 1st place in the competition. In 2010, Danny started to self-produce, fund, promote & host his own comedy venue called "Big Laughs in Little Tokyo". He has also started to host comedy shows at other conventions within Southern California. In 2013, Danny used his experience in comedy production toward running an anime convention. He helped found Ninja-Con with a non-profit organization called Azure Lorica. He kept doing comedy shows at anime conventions while organizing a one-day event in the summertime. His skill as a performer gave him an edge to help local talents within the anime community express their fandom by setting up a stage and a venue for the community. In 2017, he stepped down as a board member from Azure Lorica and has started to work his solo project called "Ronin-Expo". Danny loves cats and makes an effort get everyone to laugh and smile.
What He's Looking for as a Judge: "As a judge, I look for the following quality; story flow, punch line delivery, and audience reaction. Those 3 elements will win me and will keep the audience coming back for more comedy."
Paul "Blaqskillz" DeCuir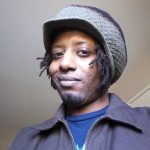 Aside from a stint of recognition via Street Fighter, Paul "Blaqskillz" DeCuir got his comedy debut in 2011 at the Pasadena Ice House. From there, he has carefully been tweaking and expanding his passion for comedy and gaming to a whole new level. He's performed at The Comedy Store, the late LA Pizza, and a wide variety around the spots Cali had to offer. He found himself with the task of judging Anime Expo 2015 and never looked back. His sharp wit, broad perspective and understanding of the multiple types of comedy and how it could pertain to a single persona, are what allow him to break down what needs to be done to improve and bring out the best in someone's comedic endeavors.
What He's Looking for as a Judge: "I will be looking for creativity, structure, personality, and "ownership" in performances to really see what contestants are made of. Even if a topic isn't relate-able to an audience, the factors above will make all the difference. I try my best to be fair and respectful, but all comedians have venom. No reason to get bit over a bit. That joke was reaching, just a bit.