JOJO'S BIZARRE ESCAPE: THE HOTEL is headed to Anime Expo!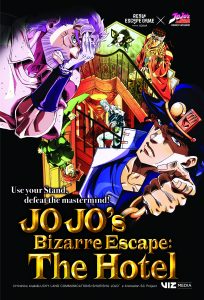 Real Escape Game returns to present the most bizarre escape event yet in the first US collaboration between Real Escape Game and JOJO'S BIZARRE ADVENTURE.
SCRAP Entertainment and VIZ Media have partnered to bring a Real Escape Game set in the world of JOJO'S BIZARRE ADVENTURE to life. The spotlight of this event will be the brand new original character developed exclusively for this game (officially approved by Hirohiko Araki himself).
JOJO's Bizarre Escape is set to come to this upcoming Anime Expo in Los Angeles!
Game Style: This is a puzzle-based, event type game, not an escape room. Each session includes a live MC, exciting movies and music to enjoy, interactions with costumed characters, and a solution walkthrough at the end. Each team will be 6 players, and there will be multiple teams playing simultaneously during the game. Each team is acting on their own and not competing with the others.
When: 

July 4: 7 PM
July 5 – 7: 1 PM / 4 PM / 7 PM / 10 PM
July 8: 11 AM

Where: JW Marriott, Gold Ballroom, Salon 4
Tickets On Sale:

Premier Fan: Friday, May 4 at 6 PM PT (Discount code not applicable.)
General Attendee: Sunday, May 6 at 6 PM PT

Price:  $40
For more details, check out www.realescapegame.com/jojo
Questions? Please email events@anime-expo.org
Anime Expo 2018  will run from July 5 through July 8 at the Los Angeles Convention Center, with Pre-Show Night on July 4, 2018. To participate in Jojo's Bizarre Escape: The Hotel, you MUST have a valid Anime Expo attendee badge for that day as well as an event ticket for admission.
For more information about attending AX, check out our How to Attend guide.