We are thrilled to welcome creator Bisuko Ezaki to Anime Expo 2018! Ezaki is the artist behind a new genre of Kawaii "Yami-Kawaii," also known as "Menhera." He will be participating in an autograph sessions (schedule TBA) and in the Fashion Show (details TBD).
Ezaki's participation in AX 2018 is made possible by Anime Jungle. Check back on the Anime Jungle website for details about Ezaki's autograph session procedures.
About Bisuko Ezaki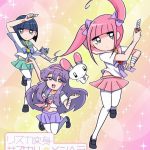 Ezaki is a Japanese Illustrator/Manga Writer who created a new genre of Kawaii "Yami-Kawaii," also known as "Menhera." One of his representative works, Menhera-chan, is a character whose theme is "mental health" – a topic that is commonly considered taboo in Japan. She transforms into magical girl by wrist cutting and fights with a box cutter knife.
Since Menhera-chan was introduced in 2014, she has developed a huge fan base mainly with high school girls who are into Harajuku culture or Japanese subculture. Menhera-chan has also collaborated with various brands, producing products that have been gaining world-wide recognition. She is now one of the most popular characters in Harajuku!
Anime Expo 2018  will run from July 5 through July 8 at the Los Angeles Convention Center, with Pre-Show Night on July 4, 2018.
For more information about attending AX, check out our How to Attend guide.