We are happy to announce Kotaro Uchikoshi will be joining us at Anime Expo 2018. Uchikoshi will be participating in a panel and doing autographs. Schedule and details TBA. Uchikoshi's participation is made possible by Spike Chunsoft.
About Kotaro Uchikoshi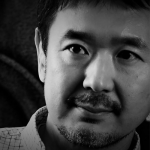 A director and scenario writer, his skills shine in his adventure titles, such as the Zero Escape series (including the award-winning Nine Hours, Nine Persons, Nine Doors), Punch Line, and Ever17 -the out of infinity-.
He is well-known for his unconventional plot twists and offbeat humor and has been actively working on many genres, many games, and many stories.
---
Anime Expo 2018  will run from July 5 through July 8 at the Los Angeles Convention Center, with Pre-Show Night on July 4, 2018.
For more information about attending AX, check out our How to Attend guide.