Hiroto is a popular cosplayer of Cybird's Ikémen Series characters as well as English Producer of the Series' best-selling otome games. You can meet Hiroto at Cybird's booth, where he will also be participating in photo sessions, autograph sessions, games, and last but not least, special kabedon experiences! Hiroto's participation in Anime Expo 2018 is made possible by Cybird. Visit their website, their Facebook event page, or drop by their booth at #1206 for schedule information about Hiroto's activities.
About Hiroto Kuramasu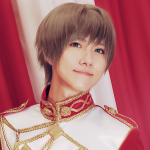 Hiroto Kuramasu was born in Hokkaido, Japan, but spent his high school years in the United States. He currently contributes to sharing otome culture worldwide as a Producer of Cybird's Ikémen Series English games. In addition, he moonlights as Ikémen Series' resident cosplayer, delivering heart-pounding memories to more than 1000 fans through kabedon events at Anime Expo since 2017. Since then, he has introduced hundreds of fans to kabedon excitement in Japan, Singapore, Taiwan, Thailand and more.
Anime Expo 2018  will run from July 5 through July 8 at the Los Angeles Convention Center, with Pre-Show Night on July 4, 2018.
For more information about attending AX, check out our How to Attend guide.