We are excited to host m-flo presents "OTAQUEST LIVE" powered by LDH USA at Anime Expo 2018 to be held on July 5 at Microsoft Theater!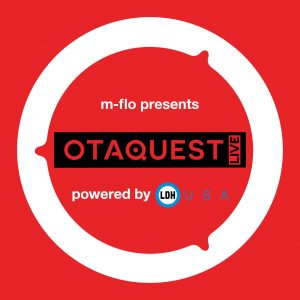 m-flo presents "OTAQUEST LIVE" powered by LDH USA is a music festival featuring Japan's biggest stars. This jam-packed event will unite dance music & J-Pop lovers in celebration. Energized by legendary Japanese group m-flo and PKCZ®, LDH USA aims to increase the popularity of Japanese pop music & culture.
This event will feature the first-ever US performances of m-flo and PKCZ®!
Event Details
When: Thursday, July 5 @ 4:00 pm
Where: Microsoft Theater
Artist Line-up: m-flo, PKCZ® plus many more to be announced!!
Tickets On Sale:
Premier Fan: Wednesday, May 30 at 6 PM PDT (Note: VIP tickets will not be available during the Premier Fan pre-sale period)
General Attendee: Friday, June 1 at 6 PM PDT
Pricing:
Platinum:  $200 (Includes a signed poster, T-shirt, towel, priority access, seating in front of stage, Special Commemorative Badge & Lanyard and Meet & Greet with talent!)
Gold:  $75  (Includes a poster, priority access and seating in front sections of Orchestra)
Silver: $50
Bronze: $20 (Not available on June 1 release)
To attend m-flo presents "OTAQUEST" powered by LDH USA, AX attendees will need to present both a valid AX badge and a concert ticket. Valid badges include 1-Day Thursday and 4-Day badges. All attendees must be above the age of 6, and must purchase a ticket.
---
Anime Expo 2018  will run from July 5 through July 8 at the Los Angeles Convention Center, with Pre-Show Night on July 4, 2018.
For more information about attending AX, check out our How to Attend guide.