We are excited to welcome Kumo Kagyu, the author of Goblin Slayer to Anime Expo this year! He will be making his first overseas convention appearance at AX 2018!

Kumo Kagyu will be having a panel and autograph session throughout the weekend. To see their full schedule during Anime Expo, visit BOOK☆WALKER's website.
Kagyu's participation in Anime Expo 2018 is made possible by BOOK☆WALKER.
About Kumo Kagyu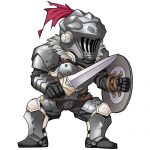 Kumo Kagyu is the author of Goblin Slayer, a dark fantasy light novel series that is currently being published under SB Creative's imprint called GA Bunko. The series also has a manga adaptation and TV anime series due to premiere in 2018. The light novels and manga are being published in English by Yen Press. Kagyu-sensei will be holding a panel and autograph sessions during Anime Expo 2018. To see his full schedule, visit booth BOOK☆WALKER's booth (#806) or website at global.bookwalker.jp
---
Anime Expo 2018  will run from July 5 through July 8 at the Los Angeles Convention Center, with Pre-Show Night on July 4, 2018.
For more information about attending AX, check out our How to Attend guide.