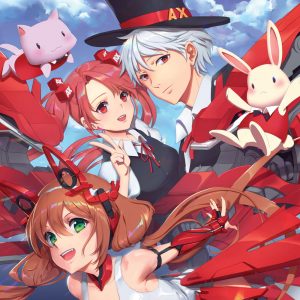 We're excited to continue collaborating with members of the AX community with this year's program guide cover featuring art by Meng Wang (LucidSky)!
With the 2017 artwork showcasing a plethora of characters that encapsulated the size and scope of AX, we wanted this year's art to convey the community aspect of AX and how it can bring people together. To do so, we asked Meng to create a piece that featured our five main mascot characters: Xeno, Ai, Kisegi, Mahoka, and MAX! While MAX was featured exclusively on our program guide art from 2012 to 2016, the other four characters (originally designed by Zelda Wang) were last seen on our program guide cover in 2011.
"The inspiration behind this piece was to capture the energy and excitement of AX and the warmth of community and friends," said Meng. "The mascots were originally created to represent a lot of fun aspects of AX and are part of the important history of the convention itself. Even though AX has grown so much, the original characters remind us that there's so much to enjoy at the convention including cosplay, fantastical exhibits, meeting old friends, making new ones, local anime communities, and even volunteering. It was really fun to work with all of them. Thank you for designing such heartfelt characters!!"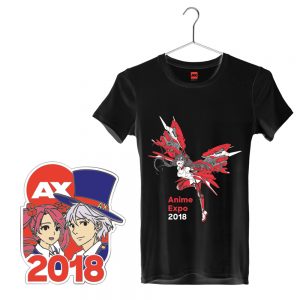 The AX 2018 program guide cover art will be available as a poster, as well as incorporated into the 2018 t-shirt and pin. All AX official merchandise will be available at the AX Merch Store. The AX Merch Store located in both the South Hall and West Hall Lobby! Come to early badge pick up starting on July 3 and stop by the AX Merch Store located outside of West Hall in Gilbert Lindsay Plaza.
Interview with the Artist:
How did you get into anime?
"My first introduction to anime was Sailor Moon at 6 am Saturday cartoons. The magical girls and kick butt attitudes really appealed to me as a kid, and there wasn't anything else like it on TV at the time. I actually started to draw because a classmate and I shared our mutual love for the series and we both enjoyed drawing them together in our class notebooks."
When did you first attend Anime Expo?
"I first went to Anime Expo in 2012. Being from Minnesota, it was the first convention I had traveled to, and it was there where I realized how big of an impact anime had on the US! Although I had been drawing since a very young age, it wasn't until I attended AX 2012 that I had become inspired to create the same kind of artwork that inspired me as a child and also decided to pursue a career as an artist."
When did you first participate in Artist Alley at AX?
"My first AX was actually my first time participating in the Artist Alley as well! Being around so many talented artists was a surreal experience. I was so excited to meet some of my art idols in person that I became very nervous when I approached them, but thankfully they were all very kind and patient with my awkwardness."
"Being that it was my first time at AX doing Artist Alley, I was pretty overwhelmed. I ended up running out of prints, which brought me to a Staples nearby. It was there where I had a chance meeting with a guy who would later become my husband! We had both showed up at the same print shop when we noticed each other's artist alley badges, which sparked a conversation. The rest is history, but we always look back fondly at Anime Expo that year as a great memory :)."
What do you love about AX?
"The best part of AX is always the great exhibitors, artists, and companies that work together to create a massive display of immersive booths to showcase what is new and exciting. The amount of effort that everyone puts forth at the convention always creates such an exciting and worthwhile place to visit, even for people worldwide. AX is really a dream for anime fans because while attending the convention, it never feels like North America is behind Japan but rather right alongside it with just a slightly different culture and flair."
About Meng Wang (LucidSky)
Meng Wang is a freelance artist who specializes in Japanese Anime styled 2D art. She was inspired at an early age by Manga and Anime which became strong influences in her artwork.
Find Meng Wang/LucidSky in Artist Alley at table C01 / C02!
To learn more, visit http://lucidsky.carbonmade.com