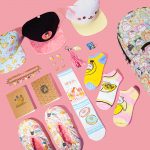 The Annex is a new concept space located in Kentia Hall, adjacent to Artist Alley. This year, the Annex features cutting-edge fashion and art. Showcasing creators' original art and designs, the debut of Animepls by Bioworld (pictured right), and fashion brands from Japan, The Annex is a place to discover something new, something edgy, something fun and exciting. The Annex will also feature live art, a portfolio review area, and a lounge area for Artist Alley participants and exhibitors.
We're excited to welcome Artist/Animator Sean Danconia (founder of SupaPop Studios) as an Annex Guest of Honor! He will have a booth in The Annex and will be participating in both live art and portfolio review sessions. (More info TBA!)
Collateral Damage Studios (Artist Alley Table C16/C17) and Ruwen Liu of Sizigi Studios (Artist Alley Table L22) will also conduct portfolio review sessions. (More info TBA)
(From left: Sean Danconia, Art by WaHa of Collateral Damage Studios, Art by Ruwen Liu of Sizigi Studios)
Plus, Animepls & AnimeExpo are partnering to bring you the ultimate IRL Anime Experience!
We're excited to partner with Animepls for The Annex, where they will bring the ultimate IRL anime experience! Follow the red carpet in Kentia Hall for surprise meet + greets, high-res photo backdrops, and AX-only merchandise with exclusive art from My Hero Academia, Dragon Ball Super, Black Clover, and more! Be sure to visit the Animepls website to get the latest updates on all their activities for AX!
---
Anime Expo 2018  will run from July 5 through July 8 at the Los Angeles Convention Center, with Pre-Show Night on July 4, 2018.
For more information about attending AX, check out our How to Attend guide.