This summer at Anime Expo 2018, why not try your luck at your own piece of ONE PIECE?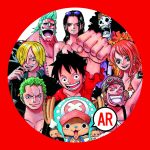 ONE PIECE PUZZLE HUNT is an island escape game where Anime Expo 2018 is set up as a massive island.  There, attendees solve riddles hidden throughout the game to escape the island.  The best feature of this game is that you use your smartphone to play! Simply download the AR app and scan the scattered cards of the Straw Hat Pirates.  Then, using cutting-edge AR technology, manga frames will appear successively on your screen guiding you on what to do next! Don't worry though, as the game has been created in a way that even if you do not have a smartphone, you can still enjoy it to the fullest.  The creator behind the riddles is SCRAP, the company famous for its Real Escape Games.  Each riddle has its own quirks that will challenge you to think hard.  Each riddle within the story contributes to a larger story overall, so by solving the riddles and escaping, you will feel as if you were able to experience a unique One Piece story all to yourself!
For just $25, this story which sounds like a dream come true can be yours!  Everyone who plays will be given a nine-piece One Piece special character card set and a special One Piece folding fan. Also, the first 5000 people who arrive will be given the chance to enter into a lottery for special One Piece goods.  The available prizes include One Piece hand towels, Once Piece illustrations, a package of One Piece assorted goods, original One Piece stickers and more!
For more information, please visit http://jvr.shueisha.co.jp/ard_en/
Puzzle Hunt Passports On Sale: Friday, June 8 at 6 PM PDT
Special Instructions:
If you are using your own smartphone to play, we recommend you bring a spare battery or charger.
Please confirm your smartphone supports the AR app beforehand.  To confirm, please check out the website listed above.
For more information about Real Escape Game and SCRAP, go to realescapegame.com
---
Anime Expo 2018  will run from July 5 through July 8 at the Los Angeles Convention Center, with Pre-Show Night on July 4, 2018.
For more information about attending AX, check out our How to Attend guide.