We're excited to welcome Santa Inoue, creator of Tokyo Tribe, as an Annex Guest of Honor! He will have a booth in The Annex and will be participating in both live art and portfolio review sessions. (More info TBA!)
The Annex is a new concept space located in Kentia Hall, adjacent to Artist Alley. This year, the Annex features cutting-edge fashion and art. Showcasing creators' original art and designs, the debut of Animepls by Bioworld, and fashion brands from Japan, The Annex is a place to discover something new, something edgy, something fun and exciting. The Annex will also feature live art, a portfolio review area, and a lounge area for Artist Alley participants and exhibitors.
About Santa Inoue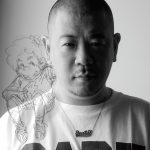 Parisian-born Japanese artist[a.k.a."King of Street Comics"]. His largely popular graphic novel "Tokyo Tribe" has gained a cult following since its original release in 1993. Its sequel "Tokyo Tribe2" was also big success in Japan and has been translated and released in the U.S., France and several other countries (as "Tokyo Tribes").
"Tokyo Tribe2" was made into an animation with MADHOUSE in 2006 and also made into a film directed by Sion Sono. It had a successful theatrical run in Japan and other countries.
Prior to that, in 2005, another of his serial works "The Neighbor No. Thirteen" (1994) was made into a feature film and US film company Distant Horizon officially announced its re-make.
---
Anime Expo 2018  will run from July 5 through July 8 at the Los Angeles Convention Center, with Pre-Show Night on July 4, 2018.
For more information about attending AX, check out our How to Attend guide.