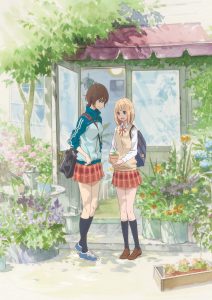 "The world seems to blossom when I'm by your side."
A universal theme and coming-of-age story of pure, young love.
A story about girls falling in love with girls, and the brilliance of youth and love.
We honored to host the premiere of Kase-san and Morning Glories at Anime Expo 2018! Director Takuya Sato and producer Yusuke Terada will participate in the premiere screening and do autograph sessions (details TBA). Their participation in Anime Expo 2018 is made possible by Pony Canyon. 
Event Details
Date: Sunday, July 8
Time: 12:30 PM – 2:00 PM
Room: Live Programming 2 (LP2) / JW Marriott Platinum Ballroom
For information about lining up and room entry, please see the Program Room Policies.
Trailer
Story
"Please, let Kase-san like me…"
Yamada is a shy high school student on the Greenery Committee.
The beautiful track and field star, Kase-san, is a student in another class.
They've never spoken to each other before, but one day, the morning glory blossoms planted by Yamada draw the two girls closer together…
Staff
Original work by: Hiromi Takashima Kase-san and… series (North American editions are available through Seven Seas Entertainment)
Director / Screenplay: Takuya Sato (Steins; Gate, WIXOSS Series, Strawberry Marshmallow)
Character Design/Chief Animation Director: Kyuta Sakai (Re:ZERO –Starting Life in Another World-, Steins;Gate, Sakura Trick)
Animation Production: ZEXCS (Frame Arms Girl, The Great Passage)
About Takuya Sato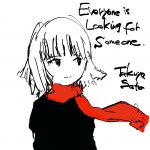 Notable works as director include Kase-san and Morning Glories, Steins; Gate, selector, Strawberry Marshmallow, NieA under 7, etc.
Notable works as story editor include Fate/Stay Night, The Great Passage, etc. Enjoys music and documentaries.
About Yusuke Terada
Yusuke Terada joined PONY CANYON in 2013 and worked mainly on animation projects as a producer and a publicity producer.
Enjoys movies.
Favorite Actress: Meiko Kaji
Latest Works as a producer: Kase-san and Morning Glories, and Dagashi Kashi 2
Latest Work as a producer for home video: Futari-monologue
©2018 Hiromi Takashima, Shinshokan/Kase-san Production Committee
---
Anime Expo 2018  will run from July 5 through July 8 at the Los Angeles Convention Center, with Pre-Show Night on July 4, 2018.
For more information about attending AX, check out our How to Attend guide.