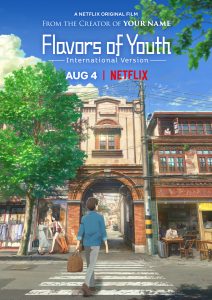 From the creators of the international box office phenomenon Your Name, comes another heart-wrenching story of youthful nostalgia and time gone by. Told in three chapters, Flavor of Youth explores the simple joys of life through sensual memories and how the beating heart of love cannot be defeated by the flow of time.
CoMix Wave Films CEO Noritaka Kawaguchi and animator/director Yoshitaka Takeuchi will join the world premiere event for a Q&A session. Their participation in Anime Expo 2018 is made possible by Netflix.
Flavor of Youth (Shikioriori) is an anthology film consisting of three shorts: "Hidamari no Chōshoku" (Sunny Breakfast), "Chiisana Fashion Show" (A Small Fashion Show), and "Shanghai Koi" (Shanghai Love). All three will be set in three different Chinese cities.
Event Details
Date: Friday, July 6
Time: 11:30 AM – 1:30 PM
Room: LACC / Main Events (Hall B)
For information about lining up and room entry, please see the Program Room Policies.
TRAILER
About Noritaka Kawaguchi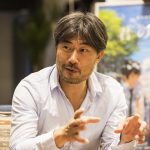 After graduating from the Department of Business Administration of Aoyama Gakuin University in 1993, Noritaka Kawaguchi joined Itochu Corporation. In 2003 he officially transferred to CoMix Wave Inc. and in 2007 he founded CoMix Wave Films Inc. Originally in creative contracting, CoMix Wave Films currently engages in animated movie production, distribution and package sales as well as overseas sales. He has served as producer on a number of projects including The Place Promised in Our Early Days, 5 Centimeters per Second, Children who Chase Lost Voices, The Garden of Words, and Your Name.
About Yoshitaka Takeuchi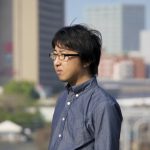 Born in Nagano, Japan in 1985, Yoshitaka Takeuchi graduated from Tokyo University of Technology with a degree in media. He has worked as a background and computer graphics artist on every Makoto Shinkai production since the 2007 title 5 Centimeters Per Second.  He served as chief 3D computer graphics animator on the 3D scenes from Children Who Chase Lost Voices, The Garden of Words and Your Name.
He has also worked as a director on other animation and commercial productions including the upcoming Flavors of Youth.
---
Anime Expo 2018  will run from July 5 through July 8 at the Los Angeles Convention Center, with Pre-Show Night on July 4, 2018.
For more information about attending AX, check out our How to Attend guide.