We are honored to host the U.S. premiere of the upcoming original anime series, Sirius the Jaeger!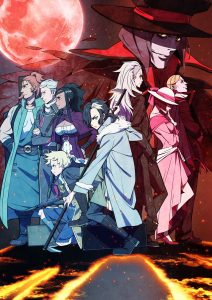 Directed by Masahiro Ando (Sword of the Stranger, Snow White with the Red Hair, Under the Dog) at P.A. Works, the series also features original character design work by Kinu Nishimura.
Be sure the official website for more information!
Event Details
Date: Saturday, July 7
Time: 1:30 PM – 3:00 PM
Room: Live Programming 3 / LACC 408AB
For information about lining up and room entry, please see the Program Room Policies.
Trailer
Story
Imperial Capital, 1930.
A strange group of people carrying musical instrument cases landed on Tokyo station.
They are called the "Jaegers", who came to hunt vampires.
Amongst them, there stood a young man with striking serenity and unusual aura.
His name is Yuliy, a werewolf whose home village was destroyed by vampires.
Yuliy and the Jaegers engage in deadly battle over a mysterious holy arc only known as "The Arc of Sirius".
What truth awaits them at the end…?
With eternal affinity and spiral of conspiracy entwine, the highly anticipated action-thriller anime begins!
Staff:
Original Work: Project Sirius
Director: Masahiro Ando
Original Character Design: Kinu Nishimura
Series Composition: Keigo Koyanagi
Animation Character Design & Chief Animation Director: Mai Matsuura, Soichiro Saki
Concept Design: Shiho Takeuchi
Action Animation Director: Masahiro Sato
Art Director: Junichi Higashi, Ayumi Sato
Photography Director: Kazuto Izumida
Edit: Ayumu Takahashi
Color Setting: Mika Sugawara
3D Animation Director: Tariki Kiritani
Music: Masaru Yokoyama
Sound Director: Jin Aketagawa
Producer: infinite
Animation Production: P.A. Works
---
Anime Expo 2018  will run from July 5 through July 8 at the Los Angeles Convention Center, with Pre-Show Night on July 4, 2018.
For more information about attending AX, check out our How to Attend guide.